A Plan for a Walkable Melbourne!
25 Mar 2013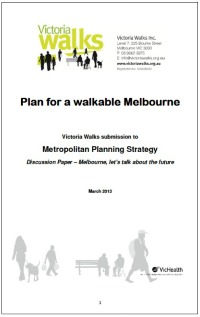 Walking is the most popular form of physical activity, with more than a million Victorians actively walking for exercise. Despite the importance of walking, it is taken for granted as a transport mode.
Victoria Walks' Plan for a Walkable Melbourne shows how the Metropolitan Planning Strategy could create a walking city.
Key aspects of the Plan for a Walkable Melbourne include:
A '20 minute city' with 95% of Melbourne residents living in urban villages within 1km of day to day services, including healthy food options, a primary school, cafés, medical services and high quality open space.
All areas of Melbourne connected by convenient, high frequency, direct public transport.
Re-focusing transport expenditure away from new freeways, towards other transport needs.
Auditing of walking access around all major public projects to identify and fund priority pedestrian works, as a condition of funding.
Developing targets for walking, such as increasing walking from 3.4% of journey to work in 2011 to 7% by 2021; and 35% of primary school students and 25% of secondary school students walking to school by 2021.
See the media release for further information and comment.
Our Plan for a Walkable Melbourne has been prepared as a submission to the Discussion Paper that the Government produced to lead debate on the preparation of a Metropolitan Planning Strategy.
There will be further opportunities to comment when a draft Metropolitan Planning Strategy is released around July this year.