Planning policy steps up for walking
23 May 2014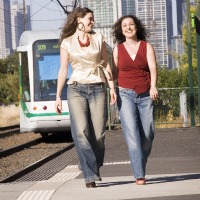 A Ministerial Advisory Committee has recommended an overhaul of the state policy in the planning scheme - and it's good news for walking.
Some highlights include:
A new policy section specific to walking and planning for it as a transport mode
Promoting high density development around train stations and accommodating most new houses in established suburbs within walking distance of train or tram stops.
Directing office and retail development to town and suburban centres
Providing walking and cycling infrastructure in all major road projects.
Some of the changes in relation to car parking are a bit disappointing, but generally it's a big win for walking.
Victoria Walks has prepared a submission applauding the proposals and suggesting ways to make planning policy even better.