Kids in cotton wool
1 Oct 2015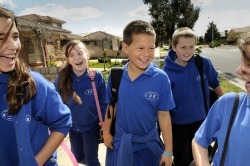 Think that Aussie kids are a lot more sheltered than they used to be? You're right.
Walk to School month starts today, but it's well established that kids all over the western world are walking to school a lot less than they used to. Now research from Australia has looked specifically at the trends in children travelling without supervision from parents.
The research compares five studies on childrens' travel in Australian cities - two from the early 1990s and three from recent years. In the 1991 study, the proportion of 8-13 year olds travelling independently to school was 61% and in the 1993 study in it was 42%. By contrast, in the three recent studies between 2010 and 2012, the proportion travelling independently to school was consistent at 31-32%.
The decline in childrens' independent mobility reflects a number of factors, but particularly parents' reluctance to allow younger children to travel alone. In the early 1990s more than half of children were allowed to travel to school alone at the age of 10 or younger, but that's no longer the case.
But are we really doing our children a favour when we don't let them travel without adult supervision? Walking to school without parents watching over them gives children opportunities to practice independent decision making. This teaches responsibility and empowers them to make good decisions in future. Walking also helps children to develop their spatial awareness and road sense, making them 'street smart' and better able to negotiate traffic.
Social networks and friendships are important to children, particularly during adolescence. The journey to and from school is a great time for them to catch up, share stories, learn, discuss and reflect on events in their lives. And of course if being able to travel independently means that a child can walk to school instead of being driven, there are a whole range of benefits to their health, understanding of their community and even their ability to learn.
See our old opinion piece in the Age for more, or just enjoy this lighthearted one minute video.