The City of Greater Bendigo has developed and implemented a number of strategies, infrastructure improvements and programs to support the walkability of the city and to encourage residents to participate in an active lifestyle.
Zone B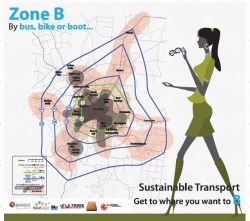 Zone B* displays sustainable transport options on a user-friendly, accessible map of Bendigo. Using a multi-layered approach, Zone B allows users to locate where they live, shop, work or study and to easily identify the most suitable form of sustainable transport for getting there whether by bus, bike or boot.
Plan B members have put on their walking shoes, hopped on their bikes and jumped on the bus to work out how long it takes to get from place to place
The results are marked on the Zone B map and we think it might surprise a few people how quick and accessible Bendigo is when using sustainable forms of transport
A limited number of free printed copies of the poster resource can be ordered from Plan B by emailing planb@bsabendigo.com.au, further orders will be at cost price.
*Zone B is an initiative of Plan B – La Trobe University Student Planners' Association. Plan B aims to involve all members of the wider Bendigo community in planning and ensuring a sustainable future for our great city.
Bendigo's involvement with TravelSmart
The Bendigo City Centre Travel Plan is being developed to assist people who travel to the City Centre by car including shoppers, commuters, students, and employees to travel more sustainably. Emphasis is on the larger employers and educational institutions in the CBD to provide leadership within the community, and to demonstrate the numerous benefits that can be achieved by developing and implementing travel plans that support sustainable travel.
The successful implementation of this project could lead to significant and wide-ranging benefits, including increased health and well-being for the community, safer and more vibrant city streets, less traffic congestion, and significant environmental benefits. Reduced single occupancy car trips supports residents not only adapt to the impacts of climate change, but also work to mitigate such impacts. (see article in Bendigo Advertiser here)
This project is a partnership between the Victorian Government and the City of Greater Bendigo. Further information is available at www.travelsmart.vic.gov.au or www.bendigo.vic.gov.au.
Shared Space Approach in Bendigo City Centre
In the last few years Bendigo has been undergoing an urban transformation. The City centre has been redeveloped with a focus on public realm improvements to improve pedestrian spaces. This includes the innovative Walk Bendigo shared space which aims to increase the levels of alertness and responsiveness of all street users to their surroundings – drivers, pedestrians and cyclists. By redesigning traditional street spaces with pedestrian style paving, furniture and fittings, and in so doing increasing the level of ambiguity at intersections and streets, it has been shown that the psychology of street users can be modified to provide a safer and more amenable city. The removal of things such as traffic lights and road markings all serve to increase the uncertainty of space. By encouraging unpredictability and creating uncertainty in the minds of all road users, vigilance and care are improved, resulting in safer streets and the potential for a higher quality pedestrian and cyclist environment.
The new intersections using the shared space model will allow level and direct pedestrian crossing routes. The whole intersection is an intermingled traffic space with pedestrians able to traverse between, behind and in front of slow moving vehicle and cycle traffic. The installation of textured rumble strips and approach ramps will provide drivers with the physical cues to slow down. The reduced speeds will in turn create safer pedestrian spaces and encourage more pedestrian activity.
Wayfinding signage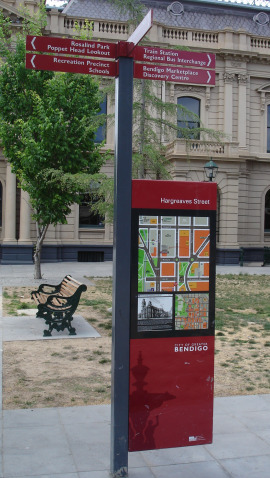 A series of maps and signs to assist pedestrians to navigate their way around the city centre has been developed which is proving particularly useful for visitors arriving by train or bus.
Most people are familiar with maps which have north at the top although for many people they never seem to be the right way up. Bendigo's wayfinding maps use a "heads-up" system that has been developed in Bristol, UK.
The maps reflect exactly what the pedestrian sees at that location. It simply doesn't matter whether you are facing north, south, east, or west because whichever map people look at, what they see "above" their location on the map is in front of them and what is "below" their location is behind them.
The development of the wayfinding maps has been made possible through a grant from the Department of Sustainability and Environment's Transit City Program.
Streets Ahead
A project that encourages kids to be more active by playing in their streets, exploring their neighbourhood and walking or riding to and from school is being implemented in Bendigo.
"Streets Ahead" is a joint initiative of VicHealth and the City of Greater Bendigo that is centred around the neighbourhoods of North Bendigo, Comet Hill, Ironbark, Long Gully and California Gully.
In keeping with Bendigo as a Child Friendly City the students of Comet Hill, Camp Hill and California Gully Primary Schools have been asked to identify their issues associated with active travel and getting around their neighbourhood.
There answers involve safety and infrastructure concerns, developing safe routes or off road walking and bike paths, increasing their skills in physical activities at school and programs to actively explore their neighbourhood.
Strategies supporting walking in Bendigo
The City of Greater Bendigo's Planning Framework consists of a mix of community and council plans. The +25 Community Plan provides direction from the community as to how they would like to see the municipality developed. This document, combined with the Council Directions provides the basis for future planning and council priorities. These documents and the supporting documents listed provide a strategic framework to promote healthy living, accessibility, safety and inclusion for the community.
Bendigo CBD Plan
Greater Bendigo Cycling and Walking Strategy
Bendigo CBD Parking Strategy
Community Access and Inclusion Plan
Greater Bendigo Economic Development Strategy
Open Space Strategy
Health and Wellbeing Strategy
Road Safety Plan
Recognition of Bendigo as Australia's first UNESCO Child Friendly City
All of these strategies can be downloaded from www.bendigo.vic.gov.au
Central Bendigo Universal Access Map
The Bendigo Heatwave Project and the B-Line Transport Connections Project have produced a Universal Access Map for central Bendigo including a Heat related information resource featuring locations around the city that provide an opportunity for respite and access to drinking water during extreme hot weather.
The aim of the Bendigo Universal Access Map has been to move beyond the provision of basic access and mobility information to provide a resource that is useful to all residents and visitors, including tourists, to the city of all abilities, across age groups and for a variety of activities.
The map is an additional outcome contributing to the asset mapping component of Transport Connections DPCD reporting requirements and fulfils a number of recommendations identified in the community development component of the Bendigo Heatwave Stage One Report.