Let's Walk Braybrook
The story continues.....
It has been delightful discovering Braybrook, a suburb rich in culture and community pride. Victoria Walks appreciates the support of Maribyrnong City Council. The Braybrook on Board Community Leaders have been key supporters and generous with their time. Our conversations with locals and people who work in and around Braybrook revealed that many people love to walk because it makes them feel good and most prefer to walk with friends or family.
Try these walks:
In 2017 we have...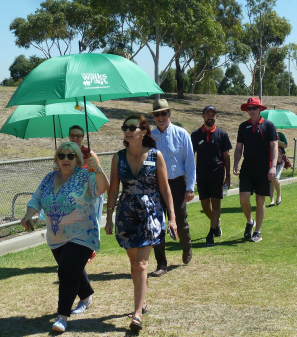 Mapped the 4 walks online and hard copies are available at Footscray Town Hall, Braybrook Community Hub and Braybrook Maidstone Neighbourhood House.
Delivered 800 maps to Braybrook residents with the help of the Braybrook On Board Community Leaders.
Almost 2000 views of the Let's Walk Braybrook maps on www.walkingmaps.com.au
Launched Let's Walk Braybrook with Maribyrnong City Council Mayor, Cr Catherine Cumming, local MPs, Marsha Thomson and Colleen Hartland, and community participants. See more in Let's Walk Braybrook official launch.
We have marked out two of the routes with coloured decals. They are Let's Walk Braybrook Streets with green footpath decals and Let's Walk Dinjerra Primary School with orange footpath decals.
Victoria Walks acknowledges the support of the Victorian Government