Nature Play walks
Grow a love of the great outdoors
The best walks for kids are often the ones where they manage to find their own fun along the way. The walks featured here incorporate many nature play elements - whether it be river banks and platypus-spotting or bush areas perfect for scavenging for materials to build a bush shelter!
These walks offer something for adults and kids alike and the beauty of the landscapes mean your little ones will be too busy rushing to see what's around the next corner to to nag about sore feet!
The walks below may or may not also feature great playgrounds as a punctuation point to the more natural play settings. Have fun, and never stop exploring (on foot of course!)
Royal Botanic Gardens, Cranbourne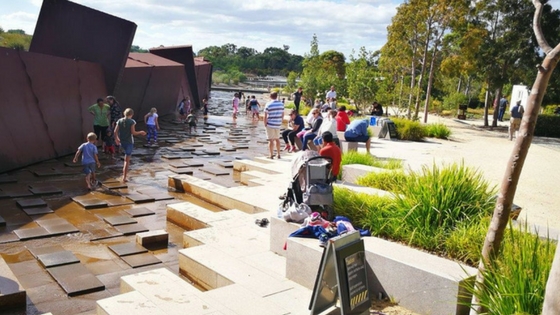 If you want your kids to have an appreciation of Australia's great outdoors, the Cranbourne Botanic Gardens are the next best thing to heading out into the wilds.
There's no one big, bright and amazing playground here but the whole place is like a beautiful landscape painting that you can walk through, with every turn in the path a gateway to a spectacular new view and place to explore.
Those who do wish to learn about Australian native plants can do so, but for little ones perhaps the best thing is to run wild, clambing over granite boulders and dipping toes into the cool waters of the interactive Waterways display.
Oh, and don't forget to pay a visit to the Weird and Wonderful garden! Snakes can be an issue at certain times of year so be sure to tell children to stick to the paths.
Find our fun Cranbourne Gardens walk here.
Royal Park walk with award-winning 'Nature Play' playground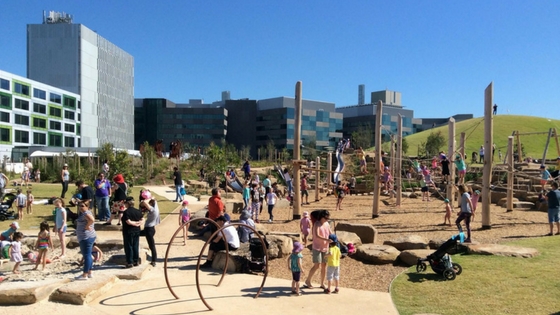 Royal Park on the city's north-west fringe is the City of Melbourne's largest parkland at about 200 hectares. It's the perfect place to include in an article about nature play walks, because it's a 'choose your own adventure'!
Your kids may want to pretend they're "out bush" in which case you may want to head towards the wooded areas near the grassland circle. If they're the dreamy types, an hour or frolicking in the grassland circle itself may be just the thing!
If you don't have a dog tagging along, there is a billabong in the park's south-west corner that is great for exploring. And no visit to Royal Park can finish without a visit to the amazing 'Nature Play' (photo above), which was at the forefront of design when it opened in 2016.
See our Royal Park walking map here.
Lerderderg Gorge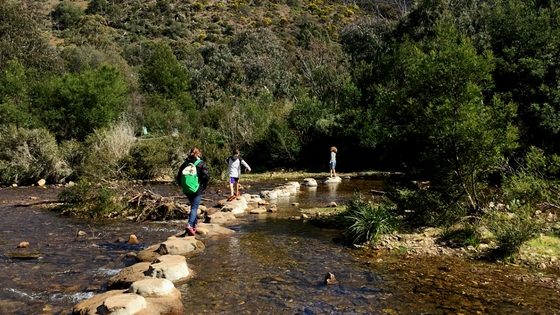 This walk, not far from Bacchus Marsh (about one hour from Melbourne) is mostly through native forest along the Lerderderg River.
This is great for kids because it's fairly short and there are lots of opportunities to explore - and who does not love stepping stones?! The changes in the flow of the river between seasons are surprisingly big. In the winter and spring it is usually a substantial river but in the summer it can stop flowing and dry up entirely in places.
Allow at least an hour to walk to Graham's Dam and back.
Another great river walk for kids is the Buckley Falls walk, at Highton (not far from Geelong).
You Yangs Big Rock walk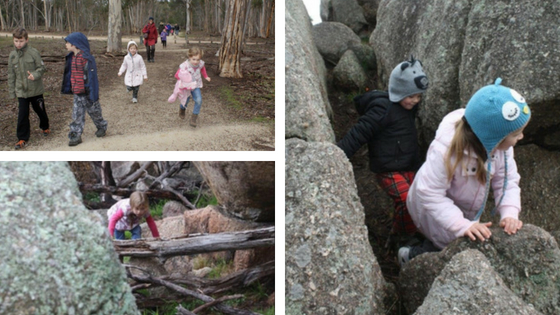 Now isn't this the very best kind of walk for your little bundle o' energy?! The You Yangs is a fantastic destination for a family day trip. It's close to Melbourne, features great walking tracks and views and this particular route has been developed with kids in mind.
There are plenty of rocks to clamber up and over (but adults may wish to take the easy way 'round and meet on the other side!)
Find our great You Yangs rock scramble walk here and thanks to Danielle from Muddy Boots and Sandy Hands for mapping it!
Wombat Bend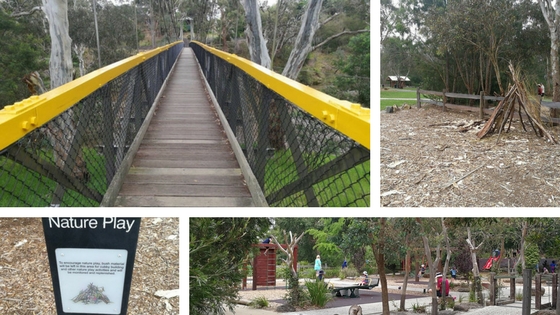 This little bend in the Yarra in the suburbs of Melbourne is a great place to spend a day with your kids.
There's a wonderful playground, as well as a dedicated 'Nature Play' space. But perhaps the best fun is to be had by the river itself. There are places by the bank where little ones can poke a stick, spot water birds while you watch from a safe distance.
At dusk, the lovely suspension bridge is a hive of activity as local platypus-spotters crowd hopefully to catch a view of these notoriously shy creatures hunting for food in the rushing waters below.
It may be your chance to see a platypus in the wild, but it might also be a good lesson in patience (or in disappointment and resilience!)
See our Victoria walks' Wombat Bend walk here
Mornington Walk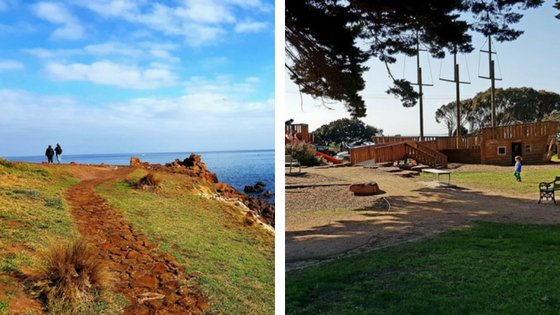 If you fancy a day out at the beach with the family, this 3.85km walk takes you around the beautiful seaside town of Mornington. There's a bit of everything to keep the little ones interested including pit stops in town, clifftop paths (take care!), picnic areas and a fabulous playground featuring a giant play ship. Please note that this walk features a leash-free area for dogs (so you may want to avoid that stretch of the beach if you or your children dislike dogs).
Find our Mornington walk here.
Lilydale Lake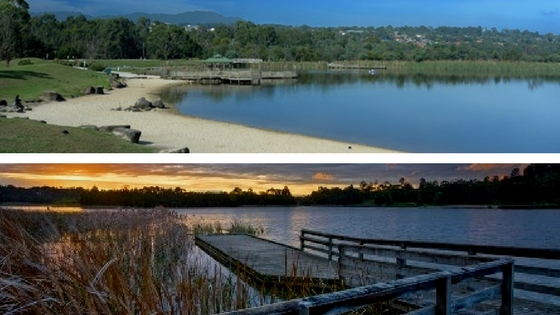 Lilydale Lake - about as close to the beach as to can get, in the hills (!)
If you've not been to Lilydale Lake your children will be surprised to stumble upon some golden sands as you make your way around our walking map (link below). There are plenty of other fun things to see and do along the way, including fishing jetties and a wetlands area, great for spotting wildlife.
Find your Lilydale Lake adventure here.

Beach walks for kids
Your suggestions: Have you got a great Nature Play walk suitable for kids? Tell us about it (and send a photo) to Jane at comms@victoriawalks.org.au
Also see:
Walks with great playgrounds

Walking with children
Eco Explorers Australia 15 kid-friendly bush walks