Safe Access Audits
Streets and Activity Centres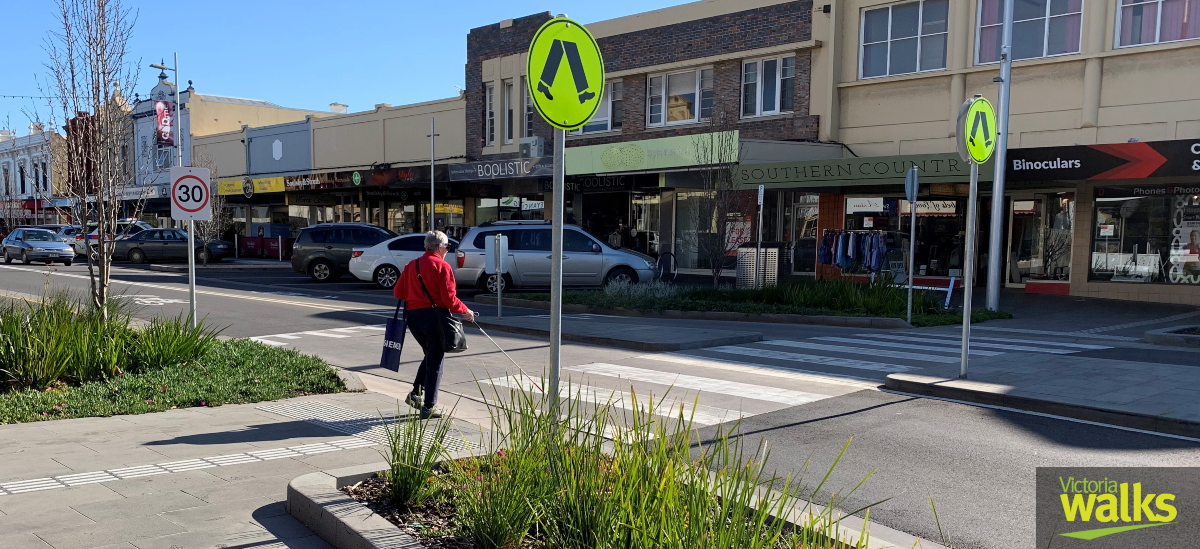 Streets that are safe and convenient for walking are key to sustainable, healthy and equitable suburbs, towns and cities.
Victoria Walks conducts systematic audits of streets, activity centres and potential pedestrian pathways, so our clients can enhance opportunities for walking to shops, services, schools, public transport and neighbourhood streets.
Safe Access Audits are an essential part of the process to ensure that footpaths, streets and public spaces are accessible and comply with the Disability Discrimination Act. Simple, low-cost improvements like connecting footpaths or installing kerb ramps can significantly improve accessibility.
The audit includes:
project initiation meeting to identify key routes and current concerns;
assessment of pedestrian safety, convenience, footpath condition, street trees, public facilities, character of shopping areas and more;
identification of barriers to safe, convenient local journeys, particularly for older walkers, families, children and people with disability;
comprehensive report on recommendations to improve compliance with relevant standards as well as ease and convenience of walking journeys and;
community/community group engagement, if deemed appropriate;
draft report including issues and recommendations for your input prior to final report;
optional interactive online maps showing exact locations of issues along with photos taken on-site; and
optional cycling safety audits and advice on reducing conflict between walkers and riders.
"Victoria Walks brings an independent, expert eye which is becoming increasingly important as walking is seen more and more as part of strategic planning within local government."

Nicole Wood, Project Manager, Travel Smart – Warrnambool City Council
Get in touch with us today if you'd like to assess the safety and walkability of an activity centre in your community.
Client work includes:
We planned and conducted safe walking and mobility scooter access audits in 12 activity centres across Banyule City Council over successive years. This project was completed in collaboration with Safe System Solutions, who undertook cycling access audits.
We developed the Walkability Assessment Methodology Framework to guide the auditing of streets for the 20 Minute Neighbourhood Pilot Program (client DELWP), providing safe walking access audits for pilot areas Strathmore, Croydon South and Sunshine West.
We conducted a safe walking access audit of the CBD footpath and public domain for the City of Mount Gambier.
We created an electronic audit form for use in the field and used it to audit safe walking access to 70 bus stops across Melbourne and regional Victoria as part of our work for BusVic.
We developed an audit tool in partnership with Vision Australia for assessing local streets and footpaths for people walking who are blind or have low vision.


Contact us about an activity centre or neighbourhood safe access audit today.