20-Minute Neighbourhoods
Victoria Walks was a partner in the 20-Minute Neighbourhood Pilot Program.
We worked with the three pilot councils to identify the key walking routes in each neighbourhood. Victoria Walks then audited the walkability of those routes, detailing the problems and recommendations for action in comprehensive reports. We also illustrated the site-specific issues in interactive online maps.
The 20-minute neighbourhood is all about 'living locally' - giving people the ability to meet most of their everyday needs within a 20-minute walk.
The program is led by the Department of Environment, Land, Water and Planning and Stage 1 of the pilot focused on three established neighbourhoods - Strathmore in the City of Moonee Valley, Croydon South in Maroondah and Sunshine West (Glengala) in Brimbank.
Identifying key walking routes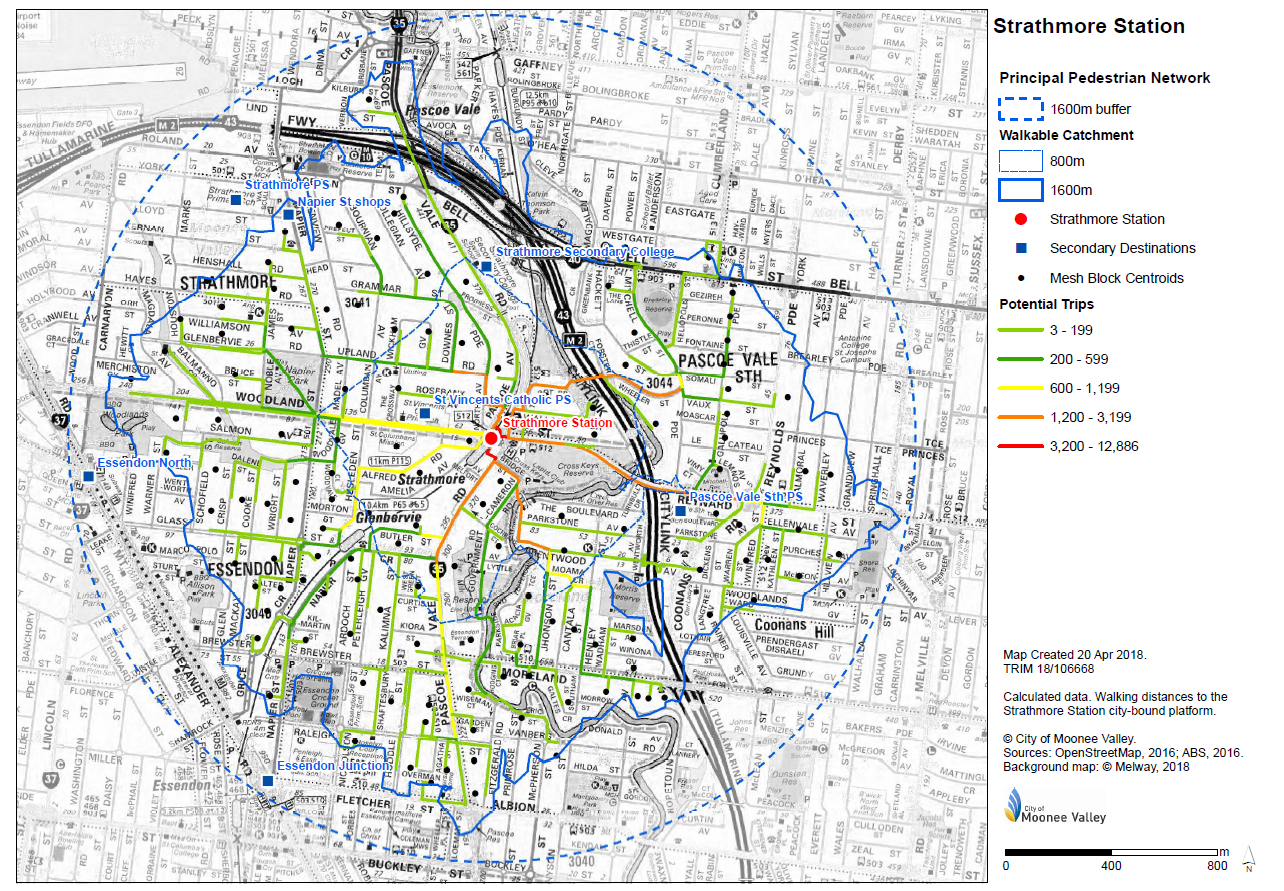 Victoria Walks worked with the councils to identify the key walking routes to each of the three pilot neighbourhood centres.
The councils estimated the potential demand for walking along each route to the centre, using census data on where people lived in the local area. This work was based on the Principal Pedestrian Network Methodology developed by the Department of Transport.
Victoria Walks then worked with the councils to identify the most important walking routes to each centre.
Assessing walkability
Informed by research and official guidance on auditing for walking, Victoria Walks assessed the walkability of the key routes identified for each 20-minute neighbourhood.
The primary focus of the assessments was pedestrian safety and convenience, but also included factors like street trees, public facilities and the character of the shopping areas.
Victoria Walks delivered comprehensive reports on each neighbourhood with both general and site-specific recommendations for improvements. Suggestions included new crossings, footpaths, kerb extensions, medians, raised thresholds, kerb ramps and reduced speed limits. The site-specific issues were also detailed in an interactive online map of each neighbourhood, allowing council officers to easily see exact locations along with photos taken on-site.
Check out the walkability assessment reports and interactive maps: