WalkSpot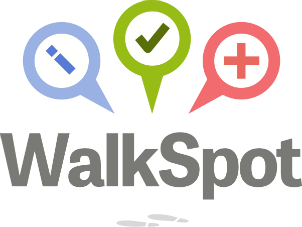 Victoria Walks worked with the State Government and local councils to crowdsource opinions on walking around Melbourne, in a ground-breaking approach to understanding road safety.
We asked people to indicate their walking safety concerns through an interactive online map, hosted by internet engagement specialists CrowdSpot. People could indicate concerns like a lack of pedestrian crossings, poor street lighting, high traffic speed, or footpath problems.
"Our understanding of road safety issues is usually limited to official crash statistics, which only tell part of the story" says Ben Rossiter, Executive Officer of Victoria Walks. "Crash statistics provide data on serious injury crashes, but they don't tell us about all crashes, what people are worried about and where they do or don't feel safe walking."
Key results
There was an overwhelming response to the project with over 1,650 people recording their perception of walking safety and generating close to 9,000 'engagements' overall. This is the highest participation ever for a CrowdSpot project.
The top five issues/concerns used to describe unsafe spots recorded on the map were:
No pedestrian crossing (20.6%)
Drivers failing to give way when turning (14.2%)
Traffic light issues eg. long wait for green man (12.2%)
Poor footpath eg. narrow, uneven or too crowded (11.8%)
Traffic moving too fast (9.0%).
In addition to identifying particular spots, participants were also surveyed on their general concerns while walking in Melbourne. This produced similar but slightly different responses to the description of unsafe spots. The highest rating responses were:
Lack of pedestrian crossings (16%)
Traffic moving too fast (15%)
Drivers failing to give way when turning (14%)
Too much traffic (12%)
Traffic light issues eg. long wait for green man (12%)
The top rated 'safe' spots were a ringing endorsement for places where pedestrians are given priority over cars. The research found that walkers clearly want to see more intersections like Flinders and Elizabeth Street, where traffic lights stop all vehicles and people can cross in any direction, and places like the Bourke Street Mall.
VicRoads, the City of Melbourne and 13 other metropolitan councils supported the project. They have received the data relevant to their area, to help them decide on road safety improvements and prioritise investment.
The project attracted substantial media coverage when we released the results, with a spread across pages 2 and 3 of The Age, as well as an article in the Herald Sun and items on ABC radio and Nine News.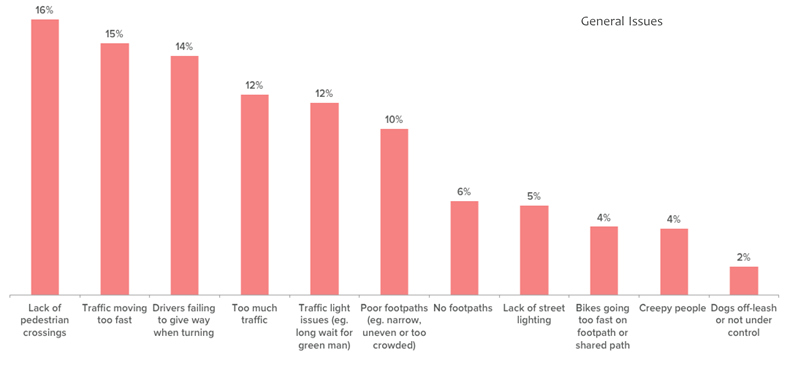 Find out more
Full details including the most unsafe spots and comparison with crash data are set out in the project report.
You can check out the interactive map and see the issues raised in your area at www.walkspot.org.au.