Walking to bus stops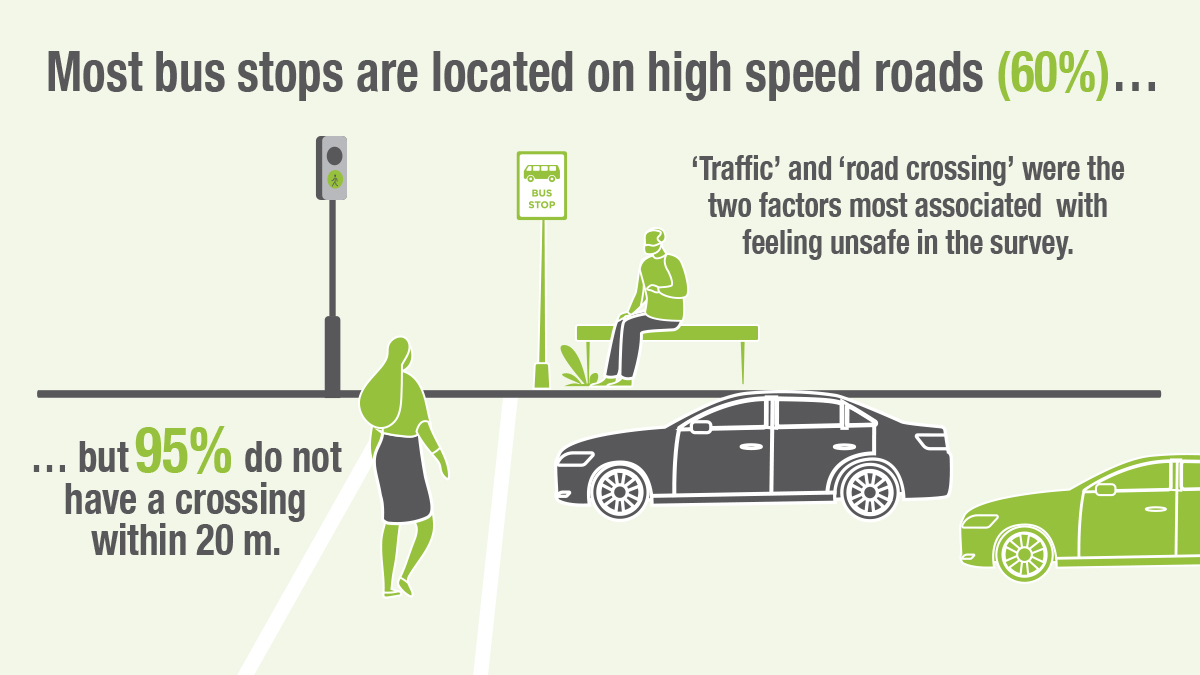 Walking is the main way people get to bus stops, with 94% of users in Melbourne walking all or part of the way. This report – Getting to the Bus Stop (2021) – provides a comprehensive analysis of the safety and amenity of access to bus stops in Victoria.
The research included:
A literature review
Discussions with state transport agencies from Australia and New Zealand
Analysis of Victorian Department of Transport data
A survey of 436 Victorian bus users, and
Audits of access to 70 bus stops in Melbourne and Victorian regional towns and cities.
Key findings include:
Bus users are considerably more likely to be younger than the general population, with a third aged 10-19 and another 22% aged in their twenties. They are more likely to be studying or working casually, not have a full driver licence and have a low income.
Bus stop audits found that 60% of bus stops were located on higher speed urban roads with a limit of 60-80 km/h. The survey reported very similar results.
Only 5% of audited stops on higher speed roads had a pedestrian crossing at the stop.
Two in five audited stops (41%) were located on roads where a person would have to cross at least four lanes of traffic and sometimes also parking lanes.
Kerb ramps are essential for people using wheelchairs, mobility scooters and prams, while driveways may also provide an opportunity to cross the road. But more than one third (36%) of the audited bus stops did not have any ramp access – kerb ramps or driveways – within 50 metres.
Footpaths are similarly important to people with limited mobility. The bus stop access audits found 11% had no connecting path and another 6% had a footpath only in one direction.
"Young people catching a bus to school shouldn't have to dart between traffic to get to a stop like they are in a game of Crossy Road," says Ben Rossiter, Executive Officer of Victoria Walks.
"Great public transport works as an extension of walking – the freedom to walk out your front door and get to your destination with nothing more than a Myki card," said Tony Morton, President of the Public Transport Users Association (PTUA). "But right now, that walk from home to the local bus stop is often just the first of many barriers we put in the way of people using public transport."
The report can be accessed via the links below. The main report provides a comprehensive picture, but further detail on the survey results and bus stop audits are provided in the Appendices.
Read the report:
Appendix B - stop audit results
Media coverage: Herald Sun 'Dangerous bus stops located on high-speed roads'