Changing Streets: successfully engaging communities
2023 (past) event


At our June 2023 event we heard from councils working in middle and outer Melbourne about how they are engaging residents in walk-friendly projects and strategies.
Each council presented for 15 minutes about their project, then took questions. Thanks to:

City of Kingston
Vote for your top walking and cycling projects!
Natasha Corponi (Engagement Coordinator) and Alex Reid (Principal Traffic and Transport Planner) will take you inside their engaging approach to consultation for Kingston's new walking and cycling strategy.
City of Casey
City of Casey on Melbourne's fringe has 97 schools and counting!
Lisa Roberts and Melanie Peterssen from the Safe Around Schools team are working with these very diverse communities to encourage and promote walking, cycling and safer driver behaviour. They've developed programs, education tools and resources, including some Easy English videos. What have they learned about messaging over three years of the program?
Maroondah City Council
Planting trees along school routes seems like a simple action to make walking trips more pleasant in a warming climate. But how easy is it? We'll hear how Sally Haebich (Tree Management Officer) Michael Blowfield (Transport and Sustainability Planner) and Doug Evans (Strategic Environment Planner) joined forces to reset the council's canopy strategy. The plantings are taking place in three stages according to need, with 600 new trees (stage 1) already growing along safe school routes.
2022 event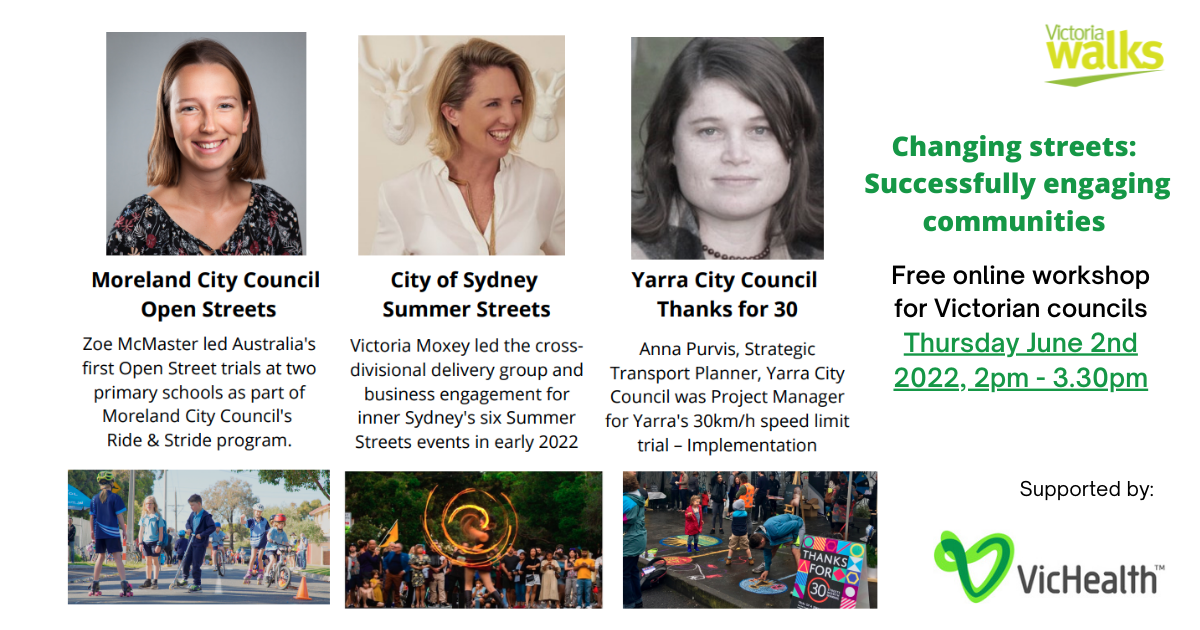 In June 2022, with support from VicHealth, we ran a free online workshop for staff from Victorian councils showcasing three ground-breaking Australian projects.
Presenters discussed how their teams managed to engage local residents, traders and other stakeholders; reflecting on their successes, learnings and biggest challenges. This was followed by Q + A with the presenters and discussion.
Who is this event for: Council staff in Victoria working in transport, sustainable cities, business development, communications/community engagement.