Parks Victoria and Victoria Walks Work on Walking in Parks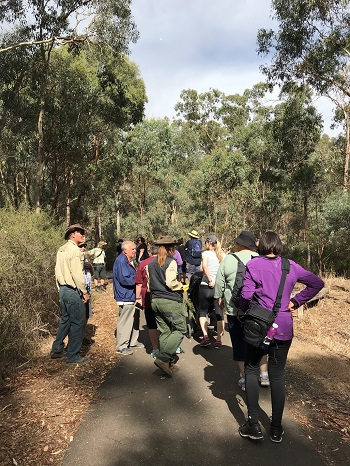 Parks Victoria, in partnership with Victoria Walks and the South Eastern Primary Health Network, have designed a series of digital and print documented, introductory walks to get more women walking in parks for their health and wellbeing. The target audiences are women recovering from health issues, older women and those from culturally and linguistically diverse backgrounds.
Exposure to nature has been shown repeatedly to reduce stress and boost well-being. More women than men choose walking as their preferred form of physical activity, but not in parks. Research shows that women face different barriers to men when engaging in physical activity. The top three being: fear of being attacked by a human or dog, fear of getting lost and lack of someone to walk with. Therefore, careful consideration was given to designing the route, clear lines of sight, no dogs or dogs on a lead and provision of directional signage. Volunteers have been trained to lead the walks once a week.
Other partners from health and cultural organisations were engaged to test the walks to ensure they meet the needs of the women. Information from these groups indicate that the most critical issue is social connection for women's mental health.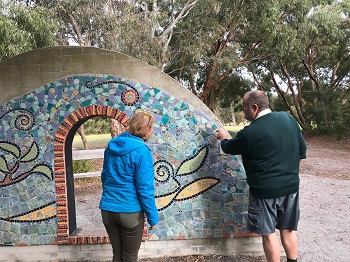 The health and wellbeing benefits of exercising in green space is documented in the Healthy Parks, Healthy People State of the evidence, Deakin University, 2015, which notes that,
'Adults who visit parks and woodlands may have reduced feelings of social isolation.'
'For older adults, parks and green spaces should be safe and easy to access to promote a neighbourhood sense of community.'
'Parks and green spaces can have a restorative effect and increase perceptions of wellbeing.'
'Adults who exercise in local parks often report mental health benefits such as improved relaxation and stress management.'
'Participants attending outdoor recovery programs reported increased self-esteem and more stable moods compared with those who attended group indoor exercise programs.'
The inclusion of the volunteer walk leaders and engagement of the partner organisations are crucial elements. Victoria Walks has begun to roll out their Let's Walk Project in local government areas but Welcome Walks will be the first to be trialled in parks.
So far, we have mapped and activated Welcome Walk at Lysterfield Lake and Welcome Walk at Braeside Park with more to come, including Bendigo and Shepparton.
Welcome Walk at Lysterfield Lake
Welcome Walk at Kennington Reservoir, Bendigo