Lighting and walking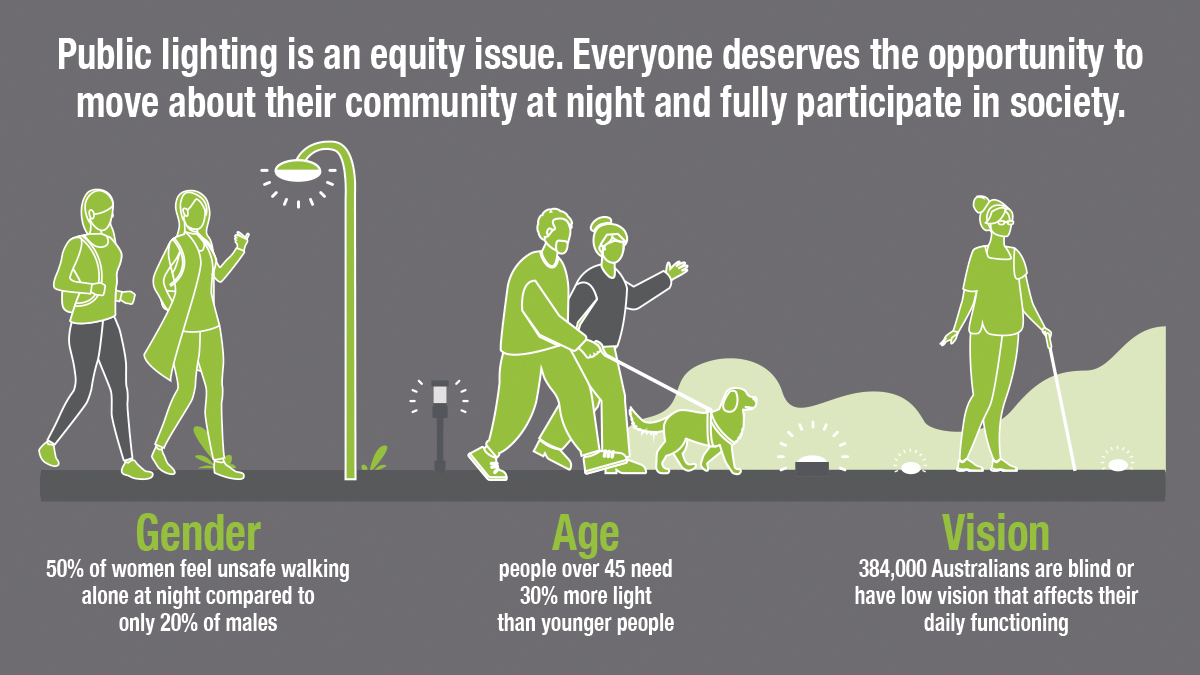 Victoria Walks was commissioned by solar lighting providers Leadsun to explore the connection between lighting and walking.
Our report considers the evidence around the need for appropriate lighting at night in public spaces, with a focus on areas for informal use that are not covered by streetlight. It also considers locations where lighting is most beneficial and how this should be delivered. The Urban Design Guidelines for Victoria recognise that lighting is "critical to creating a public realm that is safe and inviting for users."
Studies have found that better street lighting can result in more people walking and that people avoid walking in parks at night if they are not well lit. Many studies have found that good lighting is related to increased feelings of safety.
Good lighting means a path can be clearly seen at night, allowing people to identify and avoid obstacles or tripping hazards. Falls in the street (excluding falls in parks) result in more than 5,000 people presenting to hospital each year in Victoria.
Public lighting is an equity issue, as it is particularly important for women and older people.
Good lighting is not always equivalent to more, brighter lighting. Nuances are important. Different places have different lighting needs. There are a complex range of potential issues that need to be balanced, such as the impacts on wildlife, human circadian rhythms and lighting which spills into neighbouring properties.
Lighting can transform places, making them safe and welcoming, and can even be used to "delight and surprise viewers".
Preparation of the report included input from expert lighting engineers Webb Australia.
Key recommendations include:
Good lighting should be provided along walking routes used to access places at night. These include activity centres (town centres and retail areas), public transport stops, healthcare, employment and education.
Unless there are compelling reasons to avoid it, recreational paths and open spaces that are well utilised during the day should be lit at night.
As part of Leadsun's Shine a Light educational series they have also prepared a summary of the social, economic and environmental benefits of public lighting.
Access the report via the Leadsun website