Senior Victorians and walking: obstacles and opportunities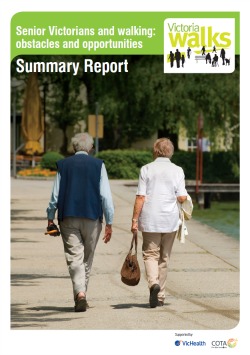 Victoria Walks contracted Dr Jan Garrard (Active Transport Consultant) to conduct a comprehensive study of the barriers and enablers for seniors' walking for transport and recreation. The study was conducted in partnership with COTA (Council on the Ageing) Victoria.
The overall aim of the project was to review research evidence related to the actual and perceived supports and barriers to seniors' walking, and identify and measure barriers and enablers for walking among senior Victorians (60+ years).
The study included:
A survey of 1128 senior Victorians
Eight focus group discussions with a total of 32 senior Victorians
A literature review of supports and constraints on walking by seniors
Analysis of seniors walking data from the Victorian Integrated Survey of Travel and Activity.
Below is the Summary Report of this unique and comprehensive study, it sets out the key results and recommendations. The full report provides a comprehensive picture of the issues facing older adults in the walking environment and recommendations for action.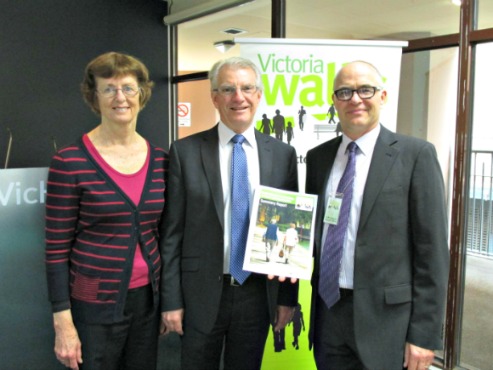 Report author, Dr. Jan Garrard, Commissioner for Senior Victorians Gerard Mansour and Victoria Walks' Executive Officer, Ben Rossiter at the report launch 5 December, 2013.