Level crossing removal and railway stations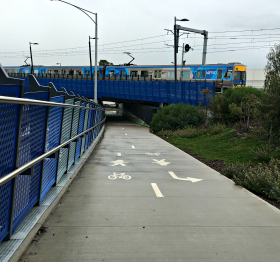 The removal of level crossings is one of Victoria's largest infrastructure programs - $2.4 billion in 2015/16 alone. The program is designed to reduce traffic congestion and allow more frequent train services.
But what does this mean for people walking to train stations, or in the neighbourhoods around the train line?
Victoria Walks asked Dr David Mepham, Director at DMC, to explore the issues and prepare the report Planning for Pedestrian Accessibility at Level Crossings and Railway Stations. This research examines key literature; a selection of existing stations and previous level crossing removal projects; and concept planning for the elevated rail on the Pakenham-Cranbourne line; in order to draw lessons for this and future rail projects.
The report supports elevated rail and the level crossing removal program, but expresses three areas of concern:
The provision of shared paths rather than separated walking and cycling paths along the rail corridor creates a potential conflict between walkers and cyclists.
Continuing provision of free car parking at stations perpetuates traffic congestion and makes the station environment less attractive for walking, and misses the opportunity to re-orient towards transit oriented development.
Where grade-separated roads are also shopping strips, there is potential for improved traffic flow to compromise the main street appeal of those streets. There is a need to provide for safe and convenient pedestrian crossing of grade separated streets, and streets more generally in the immediate walk—up to stations.