Vision impaired walkers
Pedestrian safety is a major issue for people with a vision impairment. The Monash University study Road Safety for Pedestrians who are Blind or have Low Vision reports on a representative survey of more than 600 Victorians with vision impairment and their experiences in walking. The survey found that 1 in 12 respondents had been hit by a vehicle or cyclist in the past 5 years.
Road safety audit tool for pedestrians with vision impairment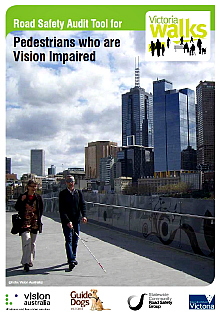 Victoria Walks was delighted to partner with Vision Australia in developing a road safety audit tool that identifies issues with local streets and footpaths that impact pedestrians who are blind or have low vision.

The tool brings together the issues that need to be addressed to make walking the streets a safe and independent activity for people with vision impairment. Making the streets more walkable for people who are blind or have low vision will also make it easier for everyone to walk.
The audit tool was designed by Victoria Walks with input from orientation and mobility specialists at Vision Australia and Guide Dogs Victoria, as well as road safety experts and engineers. It complements the public communications campaign I might not see you, but you can always see me.
Assessment of Melbourne and Geelong
The audit tool has been used to assess five local areas of Melbourne and Geelong where people with vision impairment frequently walk. People with vision impairment who walk in those areas were also surveyed to find out their experiences and compare them with the results of the audits. The assessment revealed a range of problems like poor intersection design, dangerous railway crossings and sub-standard shared paths. Driver behaviour was identified as a significant issue. Motorists failing to give way at traffic lights were a problem for 81% of those surveyed.
See the project report for outcomes of the survey and site audits.
Development of the audit tool and reporting on the audits and survey were funded by the Victorian Community Road Safety Partnership Program, administered by VicRoads.
Undertaking an audit for pedestrians with vision impairment
If you are interested in auditing your local area, download the road safety audit tool.

The tool includes individual checklists for areas such as footpaths, signalised/unsignalised intersections or public transport stops (links to editable checklists below). Make sure you read the introduction to the audit tool before using the individual checklists.

The audit tool is designed to provide a comprehensive assessment of particular areas or walking routes. For larger areas, the tool can be used to identify problems and build a list of issues that need to be addressed, so that people with vision impairment can walk safely.
Editable documents for completing an audit electronically are set out below: