Case study - Boroondara schools
Hartwell Primary School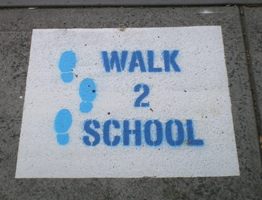 The City of Boroondara and Hartwell Primary School have been working in partnership to develop a Sustainable Travel Plan for the school. The Plan is intended to support the students, parents and staff of Hartwell Primary School to reduce the number of car trips to and from school and increase the number of students travelling sustainably, with a particular focus on encouraging walking.
The vision of the travel plan is to change the mindset of the students and parents of Hartwell Primary School so that walking to and from school becomes a part of their normal routine. This would see less traffic and congestion around the school and a safer and more enjoyable walking environment for students and their families.
This plan aims to encourage and support the majority of students (over 50%) to walk to and from school on a regular basis. According to parent surveys in October 2010, the level of students walking to and from school was about 39%. The target for this school travel plan is to increase the number of students walking by at least 12%.
To achieve this target the objectives of the Plan are to:
1. Increase the number of students walking to school.
2. Reduce the number of vehicles around the school during pick up and drop off times to create a safer environment for students to walk.
3. Ensure that vehicles coming into the school precinct during pick up and drop off times do not impact on the safety or amenity of students.
To encourage walking, 'Walk 2 School' logos were marked on the footpath along key walking routes to school. These routes were chosen based on where students live, common walking routes to school, established drop off points and the location of safe places for students to cross. The routes were audited by Council and logos in school colours were marked ready for students to follow at the start of the school year.
Other activities that formed part of the plan include:
Classroom activities to assist students to plan walking routes to school.
Promoting drop off points from which students can walk to school.
Traffic safety education programs and excursions.
Walk to school days and regular walking competitions.
Raising awareness among parents of the health and environment benefits of walking through newsletters, fact sheets and information nights.
Improving crossings around the school.
Get2School Cool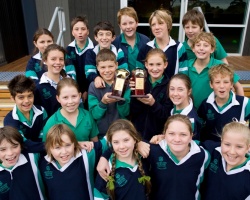 Council also has its own sustainable transport competition for its primary schools, entitled the Get2School Cool Challenge where primary school students travel by any sustainable transport method to and from school one day and record which method they took, and the estimated number of kilometres that they travelled sustainably. Many children choose to walk to school on this day, as well as others. Winners are chosen either according to the largest number or percentage of participating students per school, as well as largest number of kilometres travelled sustainably and estimated kilograms of carbon dioxide saved from being emitted into the atmosphere.
To date thousands of Boroondara children from 24 local primary schools have participated in this event, saving approximately 1,800 kilograms of carbon dioxide from being emitted!
Walk or wheel Wednesdays
This initiative aims to support healthy travel by setting a day each week that is dedicated to walking and wheeling all or part of the way to school.
Walking or riding to school helps children to get the physical activity they need every day for good health. By setting Wednesdays as a regular day for healthy travel to school, families can be confident that there will be fewer cars and more people on the streets around their school.
The City of Boroondara has run this program since 2012 over one school term, providing the resources to run the program and prizes for students and schools that participate.