Implementing design
Principles for promoting pedestrian oriented design are reasonably well understood, but may be difficult to translate into practice. This page looks at how urban design for walking can be implemented through the land use planning system, with particular reference to activity centres, residential subdivision and growth areas.
Activity centre planning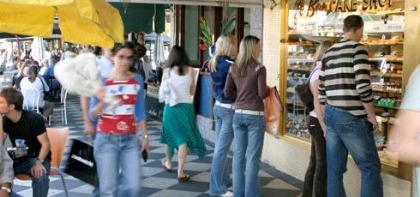 Activity or retail centres are critical in promoting walking. Traditional retail centres are lively, interesting places that people want to spend time in. Typically, a high proportion of people walk to these centres - see our Darebin and Acland Street case studies. Conversely, car oriented shopping malls are bland environments that are hostile to pedestrians and lifeless at night. The character of an activity centre will be a key determinant in whether people walk or drive to get there.
In planning and managing activity centres, the street environment is critical - see the road management section of this site. In particular, road authorities need to manage the severance effects of arterial roads, which are often significant barriers to pedestrian movement. Also very important is the management of car parking - see the parking page.
A range of Victorian guidance is available for activity centre planning. This includes the useful Activity Centre Design Guidelines.
Car oriented shopping mall developments can be retrofitted to promote walkability. In San Francisco The Crossings converted an old shopping mall to a pedestrian oriented, primarily residential development.
Residential subdivision and design
While planning requirements for residential subdivisions and design are largely standardised through the Victoria Planning Provisions, a number of councils have developed additional guidelines to promote active travel, including:
Planning for growth areas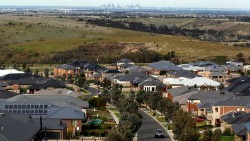 In planning for growth areas fundamental principles of urban design are critical. Once constructed the pattern of urban development, particularly elements such as the street network and connectivity, is essentially fixed.
A study from the urban growth areas of Perth confirmed that even in a growth areas context, walking increases with local destinations like shops. For each destination type that increased, people walked an additional 6 minutes per week. The study recommends providing incentives or introducing infrastructure levies to establish a mix of local businesses, public transport, community services and open space at an early stage of development, to provide the destinations clearly needed to promote walking. See our news item for more information.
The integration of transport and land use has broken down in the current model of growth area planning in Melbourne. Productive Cities: opportunity in a changing economy, details how households in the outer suburbs have poor access to transport and employment. If public transport is unavailable when new suburbs are developed, residents will be forced to drive for trips beyond convenient walking distance, establishing habits that are likely to persist even if public transport services are subsequently provided. Victoria Walks therefore supports the position of the Metropolitan Transport Forum, that "If the government cannot support public transport to the growth corridors then it should not allow the development" (State budget submission, 2013/2014).
Planning systems
It seems that it is fairly common for planning policies to be supportive of walking, yet this may not trickle down to actual planning practice.
In Western Australia, the government undertook a review of their planning system to understand why policies that support active travel were not translating to action 'on the ground.' This was published in the Accessible Communities Study Report 2009. The work included an International and National Best Practice Review of planning systems, incorporated in the Accessible Communities Study Report Compendium.