Social benefits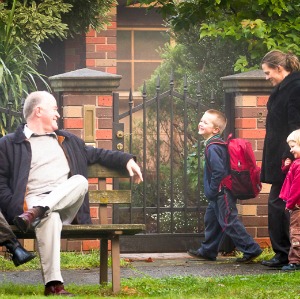 A plethora of research illustrates that social connection is crucial to wellbeing. It is also well documented that loneliness can have serious health consequences, with a similar impact to high blood pressure, lack of exercise, obesity, or smoking.
Research conducted by the Grattan Institute into Social Cities found that:
One-person households are the fastest-growing household type in Australia, expected to grow from 24% of all households in 2006 to 28% in 2030.

Older people with stronger networks of friends live longer.

The number of friends and local people an average Australian can ask for a small favour from has fallen over the last 20 years.
Walking increases opportunities for face-to-face social contact and helps people to map their neighbourhood in social terms. Trust, sympathy, respect, understanding, loyalty and co-operation - qualities core to social connection - come more easily through direct contact. Walking is important because, despite other ways of connecting, face-to-face contact remains a crucial way to develop and sustain our personal relationships.
Increasing social connections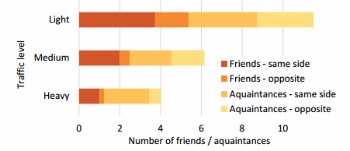 One way to combat social isolation is by creating active and walkable neighbourhoods. Better walking conditions and opportunities increase the numbers of people using the street and in turn strengthen the potential for casual social contact.
In their classic study Appleyard & Lintell (The Enviromental Quality Of City Streets 1969) described how as traffic volumes increased and walking opportunities decreased the levels of social interaction between residents on specific streets fell. Streetfilms have produced a neat video, Revisiting Donald Appleyard's Livable Streets, which visually communicates the key findings of the study.
More recently a study conducted in Bristol, Driven to Excess 2008, replicated the classic 1969 study with strikingly similar results. Traffic speed also has an adverse effect on social connections and this is addressed on the Safe Speed page.