Case study - PARK(ing) Day
City of Darebin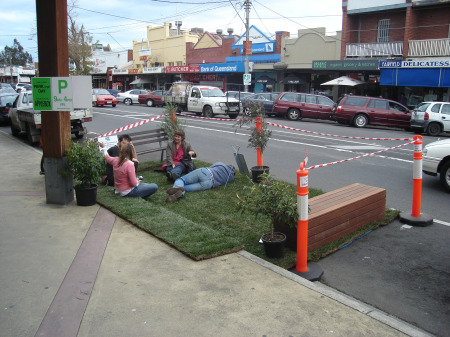 The City of Darebin was one of the first Victorian councils to celebrate PARK(ing) day, in September 2008.
PARK(ing) day aims to challenge the view that roads are a car's territory – after all, roads are public space.
An on-road car parking space is reallocated for the day to people, with turf, deck chairs, pot plants – basically a mini, temporary park. Locals and passers-by get a positive glimpse into the benefits of using public space for people, not for cars, and it's a whole lot of fun in the process.
City of Yarra
Two parking spots in Smith Street, Fitzroy, were temporarily transformed into a park on 18 September 2010, as Yarra City Council participated for the first time in PARK(ing) day.
The popular parks, which werer installed near the intersection of Smith and Johnston Streets, included trees in planter boxes, park benches, a bicycle rack and instant turf.
Yarra Mayor Cr Amanda Stone said Council was excited about being involved in the annual one-day global event instigated by a San Francisco art and design studio in 2005. "PARK(ing) day is all about re-imagining the possibilities of a dense urban environment such as Yarra," Cr Stone said. "So much of our public space is devoted to cars, which bring with them pollution and congestion," she said.
"We want to challenge people's ideas about what our public space is used for – seeing people enjoying themselves in a park in the middle of a parking strip will certainly do that."
City of Moreland
Moreland City Council celebrated Parking Day 2009 by hosting a temporary park in Lygon Street, East Brunswick.
A park bench, plants and old cricket pitch helped transform land usually used to store cars into a vibrant public place. After helping set up the park Council traffic engineer Gordon Blake joined in the spirit of the day with an acoustic set on the sitar. Visitors to the park enjoyed coffee and lunch from nearby cafes and imagined a possible future where streets were designed for people, not just cars.