Benefits for children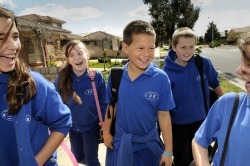 Walking to school is good for a child's physical health, but in Australia the rate of walking to school has declined dramatically since the 1970s. Then, 40 per cent of children walked, in 1994 it was 24 per cent and it is now thought to be as low as 15 per cent.
In a study in south eastern Sweden, which has relatively high rates of active travel to school, 90% of girls and 67% of boys aged 7‐9 years met the recommended number of steps per day (12,000 for girls and 15,000 for boys). In comparison, in Australia, 50% of girls and 32% of boys aged 5‐8 meet the recommended number of steps. For more information and comparison between Australia and other countries, see the VicHealth report on Active Travel, Children and Young People.
A recent study of more than 12,000 Australian teenagers found they were much more likely to eat their recommended intake of fruit (41%) and vegetables (24%) per day than they were to get the recommended level of exercise (15%). This was particularly so for girls, with only 8% getting the 60 minutes moderate to vigorous physical activity recommended for teenagers, compared to 22% of boys (Morley 2012). Active travel is critical for exercise during teenage years and in the transition to adulthood, because as children grow older they get less exercise through play. Active travel tends to increase during teenage years and young adulthood, while other forms of exercise are declining.
Walking and education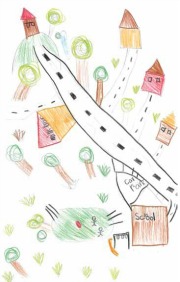 Perhaps more surprising than the connection between walking and physical health is the evidence that walking to school is good for a child's educational development. A study of nearly 20,000 Danish children found that children who walked or cycled to school were able to concentrate much better than others for the first four hours of the day. Research in Washington DC found some correlation between the level of walkability and overall school performance.
Walking to school is not only good for a child's health and education, it helps them understand their world. As part of VicHealth's Streets Ahead programme, children at four schools in the Darebin area were asked to map their neighbourhood. Those who walked to school were better able to describe the area they lived in. Children who were driven drew their neighbourhood as a series of fragmented, abstract images (Streets Ahead 2008-2011 p20).
The capacity to walk in their neighbourhood is highly important to childrens' independent mobility and their general development. Patterns established during childhood tend to carry into adulthood. Those who take up healthy behaviours, such as walking, when they are young are more likely to continue these practices as adults. Children are more likely to walk if their parents walk - and parents are best placed to teach them to negotiate their neighbourhood safely. See the opinion pieces from The Age below for more on the role of parents in encouraging their children to walk.
See programs for children for information on the issues that determine walking by children and methods to promote it.