Road dieting can be used to create neighbourhood pocket parks. The City of Yarra and the City of Melbourne have made some great advances in this field by developing three pockets parks from reallocated road space.
Yarra pocket parks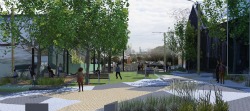 The City of Yarra plan are creating a new park on Richmond Hill. A section of road at the intersection of Docker Street and Richmond Terrace will be removed and a new park installed in its place. The 600m2 space will include two lawn terraces, seating, garden beds, trees, bicycle racks and a drinking fountain. This new park will also incorporate a paved shared zone in order to preserve existing vehicle, bicycle and pedestrian access.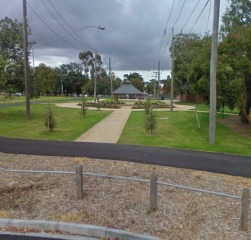 Due to its industrial history, Collingwood has a very low proportion of open space (0.2 m2 per person) so Yarra City Council has sought ways to create new green pockets in the suburb. A small green pocket park, about 650m2, will be created by closing part of Oxford Street, between Derby and Langridge streets, to vehicles. Yarra Council had to successfully resolve issues with the owner of a property next to the space about maintaining vehicle access to their private property before construction could begin on the park. 80% of the project cost has been funded from contributions made by developers. For further information view the final concept plan.
These proposals follow the success of Barkly Gardens, Richmond, as an earlier example of reclaiming road space for open space. About 100 linear metres of Barkly Ave was converted to parkland in order to extend Barkly Gardens and connect it with Allan Bain reserve. The former alignment of the road is indicated by the power lines in this photo.
City of Melbourne - Errol St North Melbourne
The City of Melbourne have commenced construction on a park expansion program at Errol Street which was originally lobbied for by the residents of the area. The landscape works to Errol Street Reserve will expand the park from 529m2 to approximately 4900m2.
When completed, the new Errol Street Park will have lawn areas, paths, a raised timber deck walkway, garden beds, seating, lighting and 28 new trees. The completed works will incorporate a new bus stop and will also redirect the existing bus route around the site.