Case study - public art, City of Port Phillip
St Kilda Rd underpass and Pakko Lane
High quality pedestrian access is a vital element in creating vibrant and sustainable communities. Streets dominated by cars can be unfriendly, unsafe environments and get in the way of creating a living city with a community atmosphere. When access for pedestrians and cyclists is made the priority a street can become a useable open space allowing a community to see, talk and interact with each other. Streets are for living, not just driving.
Concern about the unfriendly unsafe environment led to the street art project at the St Kilda Rd underpass. New lighting signage and of course great art has achieved a highly visible safe access under St Kilda Road Junction to houses, transport and services.
Another project in St Kilda involved high quality street art with new lighting and pathway refurbishment in a laneway that connects residential streets to transport and shops. Pakko Lane enables more local access as well as completing a missing walk link north and south through St Kilda.
Public art on the St Kilda Road underpass and Pakko Lane.
Ping pong in the park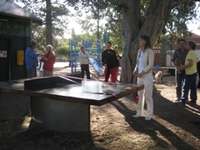 A group of local residents made up of technicians and artists designed and built a beautiful outdoor ping pong table made out of concrete, metal and plywood timber in Jacoby Reserve in West St Kilda.
The idea was inspired by the outdoor tables located in small neighbourhood parks in Europe and America. Bats and balls are available for loan at the Cowderoy Dairy Cafe.