Effective promotion of walking, at whatever level of government, requires a clear focus and a plan to guide and prioritise actions.
Walking can and should be a component of any broader integrated transport strategy. See for example the Walking City component of the City of Melbourne Transport Strategy. However a clear focus on walking as a distinct section of the broader plan is necessary (the City of Melbourne has also now developed a specific Walking Plan).
For the most effect, a separate walking strategy should be developed. In the City of Yarra, for example, the Strategic Transport Statement provides the overall transport policy, which acknowledges walking as the most sustainable and highest priority mode of travel. However they have also developed a specific Encouraging and Increasing Walking Strategy.
Developing a Walking Strategy - a Guide for Councils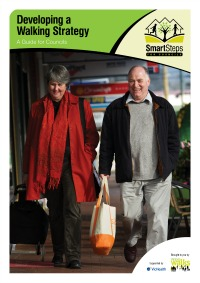 Victoria Walks has prepared a Guide to Walking Strategies with the assistance of UrbanTrans.
A good walking strategy will help create an environment where all types of walking are supported, to help meet transport, health and planning objectives. It will coordinate the council's work to support walking, ensuring it is prioritised in transport and strategic planning and raising its profile within the municipality.
The Guide to Walking Strategies explains:
Places and ways to gather quality information to underpin the strategy.
Planning pedestrian networks and auditing walkability of areas.
Design and programme elements that need to be considered, including, walking infrastructure, behaviour change programmes, and urban design and planning.
Ways of building support for the strategy, both inside and outside council, so that all the key stakeholders are engaged and the strategy has a better chance of being implemented.
Examples of existing council walking strategies.
Self assessment survey
If you are looking to develop a walking strategy for a council, this self-assessment survey will help identify the things you need to consider, including organisational capability:
Broader strategies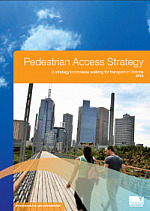 Victorian Pedestrian Access Strategy 2010
Victoria Walks sat on both the Working Group and Steering Group for the development of the Pedestrian Access Strategy: A strategy to increase walking for transport in Victoria 2010. The Strategy was developed by the Department of Transport under the previous Victorian Government.
The Pedestrian Access Strategy sets out an array of potential actions to promote walking in Victoria. It also provides good information on the relative role of walking in the transport system.
The current Victorian Government has not endorsed the Strategy. Victoria Walks argues that a new Strategy is required to advance walking in the State.
International Charter for Walking
The International Charter for Walking sets out general principles for walkable environments. Organisations can sign the charter and the process for considering this can be a good way to engage senior managers and councillors in walking issues.