Case studies - Wayfinding signage
City of Port Phillip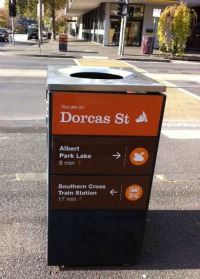 Wayfinding signage helps people navigate their way through the urban landscape. Good wayfinding signage also details walking distance and/or time to key locations. A number of councils around Victoria have installed wayfinding signage.
The City of Port Phillip has an excellent system of pedestrian wayfinding signage. Particularly impressive is the use of other street furniture - rubbish bins - as platform for signage. This multiple use of street furniture minimises clutter in the footpath environment.
For more details and imagesof the Port Phillip signage see Studio Binocular.
Bendigo City Council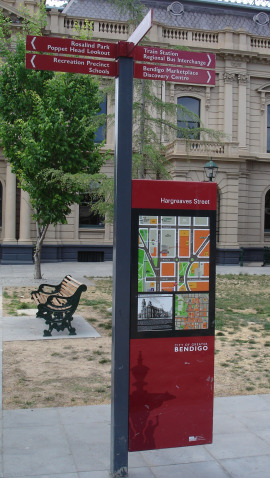 A series of maps and signs to assist pedestrians to navigate their way around the city centre has been developed which is proving particularly useful for visitors arriving by train or bus.
Most people are familiar with maps which have north at the top although for many people they never seem to be the right way up. Bendigo's wayfinding maps use a "heads-up" system that has been developed in Bristol, UK.
The maps reflect exactly what the pedestrian sees at that location. It simply doesn't matter whether you are facing north, south, east, or west because whichever map people look at, what they see "above" their location on the map is in front of them and what is "below" their location is behind them.
The development of the wayfinding maps was made possible through a grant from the Department of Sustainability and Environment.