Case Study - Two Towns Trail, Baw Baw Shire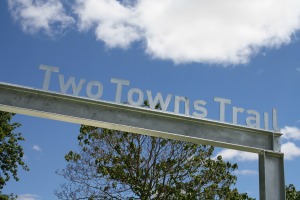 The 'Two Towns Trail' is an 8km shared walking and cycling pathway linking Baw Baw Shire's two main towns, Drouin and Warragul, opened in 2009. The Trail, which is a three-metre wide concrete path, was built to promote shared usage for cyclists, walkers, skaters, scooters and prams. Click here to see the Two Towns Trail on our Walking Maps.
Features on the trail include: wetlands, remnant stands of vegetation, boardwalks, views to Camp Hill, Mt Worth and the Baw Baw and Strzelecki Ranges.
Regular monitoring of the trail has shown usage growing at around 30% per annum and in April 2012 the trail was attracting 2,800 people each month. In the first four years of operation the trail was used more than 150,000 times.
The project was initially funded by Vic Roads, the Council, DPCD and Federal Government with a total cost around $1.8 million. In 2011, the Council secured a $195,000 grant from the Department of Planning and Community Development (DPCD) to continue beautifying the trail. The results include interpretive signage and resting points which have seats, bike racks and rubbish bins. The trail is an interesting, safe and visually appealing environment which encourages physical activity.
The trail provides a safe path for people to commute between the townships with the main objective to shift car trips to walking and cycling. The long term benefits include reducing environmental impact, improving health and reducing the number of people currently driving between the two destinations.