Electric scooters - a legal perspective
Note: Rules governing the use of e-scooters in Victoria have changed since the below article was written. The State Government commenced a trial of rental e-scooters in some council areas in early 2022. In April 2023 the trial was expanded to include private e-scooters. For the latest rules governing e-scooters see this VicRoads page.
By Nick Mann and Yen Tran from Polaris Lawyers.
Electric scooters (e-scooters) are promoted as offering commuters a convenient alternative to the traditional modes of transport. However, there are significant risks associated with using e-scooters. While the risks for users are well publicised, the health risks and legal implications for pedestrians deserve greater scrutiny and attention.
What are the risks associated with e-scooters?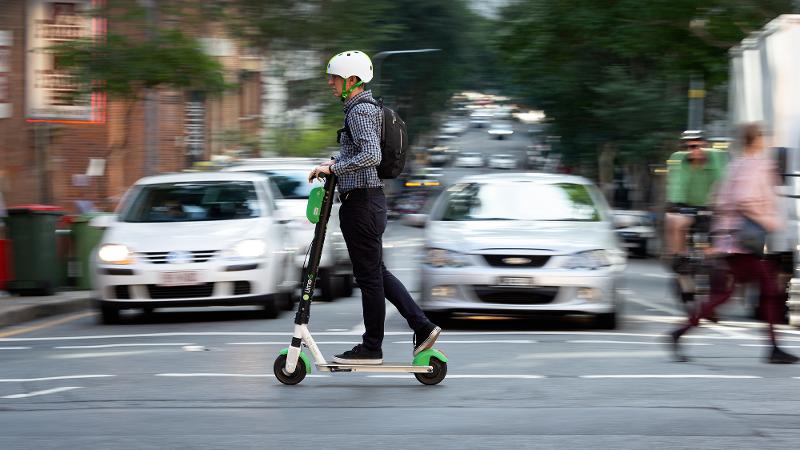 On 9 May 2019, a 50-year-old Brisbane man died after suffering critical injuries from crashing his e-scooter provided by the scooter sharing company 'Lime'. Lime says that the scooter was not malfunctioning and that its helmets met national standards. Prior to this, Lime experienced significant technical glitches which caused irregular braking in their e-scooters, resulting in a reported 30 injuries in New Zealand.
Data from five central emergency departments in Brisbane identified a total of 134 patients presenting for treatment because of an e-scooter related incident last year alone. At least 10% of these injuries required surgery.
It is clear that e-scooters present safety risks to users but the risks to pedestrians is less clear. Internationally, at least one pedestrian has been killed when hit by an e-scooter. Wherever you have multiple road users travelling at different speeds in different vehicles, a risk of death or injury is aggravated, especially to pedestrians who are the most vulnerable.
Perhaps more significant than the physical risks, is the potential for pedestrians who are the most vulnerable such as children, the elderly or those with mobility limitations, to be put off walking if forced to share a footpath with fast moving e-scooters.
What are the legal risks?
In addition to the risks associated with e-scooters using footpaths and shared spaces, collisions involving the use of electric scooters create a significant problem of insurance and legal protections for victims. Legalising the use of e-scooters on footpaths exposes pedestrians to unacceptable risks of injury and death which are not covered by Compulsory Third Party (CTP) motor vehicle accident insurance e.g. the TAC scheme in Victoria.
The user terms for Lime state that the rider has full liability for damage, loss, claims and lawyers' costs for damage or injury to the rider or a third person. Worse, as the rider you indemnify the company (Lime in this case) so, if the brakes fail and causes an injury to another, the rider could be held responsible!
Another operator of e-scooters in Queensland 'Neuron Mobility' sends mixed messages regarding insurance coverage. The terms and conditions on its website state "Your safety and peace of mind is important to us, however any insurance held by Neuron does not cover you for any injury, harm, damage or loss you may suffer in the event of an accident (or otherwise related to your use of the Services) and you should give consideration to obtaining your own insurance." Meanwhile, users of the app are promised "All riders across operational cities are covered" in an accident, yet no further details of the terms of that coverage are available on the app.
In Victoria, if you or someone else is injured in a motor vehicle accident, TAC insurance steps in and can pay a lump sum compensation and benefits for wage loss, medical bills and expenses no matter who was at fault, even if the person who caused the accident can't be identified (e.g. hit and run collisions). However, this kind of coverage will not apply to those injured on or by e-scooters.
What's the legal status of e-scooters around Australia?
Developing an appropriate regulatory system for e-scooters is complex. In most countries that have assessed the issues, e-scooters are prohibited on the footpath, but approaches can vary even within countries.
Here in Australia, the National Transport Commission is attempting to develop standards that can be applied nationally. For the meantime however, regulations vary from state to state.
Last year, the Queensland government allowed Lime to distribute their e-scooters around Brisbane. As a result, e-scooters were permitted to be used on footpaths and shared pathways. As of 14 December 2018, e-scooter riders must wear a helmet and can ride to a top speed of 25 km/h on roads (without dividing lines or median strips) and road related areas (i.e. footpaths) with speed limits of 50km/h or less.
In Victoria, an e-scooter cannot exceed 200 watts in power or 10km/h in speed. If an e-scooter exceeds these limits, it's classified as a motor vehicle and would require registration and a valid license before it can be used on the road with a speed limit of less than 50km/h.
Without meeting these conditions, such e-scooters can only be used on private property and are not allowed in public spaces such as roads and footpaths. The Victorian Government is being lobbied to legalise scooter use on footpaths without a licence. Lime and Aussie start up 'Ride' have conducted a number of small trials in St Kilda and the Clayton campus of Monash University. However, due to the 10km/h speed limit, travel time on an e-scooter is rather slow and so the trials have only experienced limited success.
In South Australia, e-scooters are not legal but were trialled during the Adelaide Fringe Festival and were permitted to reach the maximum speed of 15km/h on footpaths and shared paths. They must not be used on multi-lane roads or any road with a speed limit of more than 50km/h. Riders must wear a helmet and be 18 years or older. The South Australian government have extended the trial until 15 October 2019.
Similarly, the Northern Territory hope to start a 12-month trial of e-scooters in Darwin around August 2019. The maximum speed will be 20km/h and riders will be allowed to use bikeways, shared paths and footpaths.
In New South Wales and Tasmania, e-scooters cannot be registered and can only be used on private land. Whilst the speed limit for e-scooters is unclear in NSW, e-scooters cannot travel faster than 10km/h in Tasmania. Lime have not conducted a trial of their e-scooters in NSW or Tasmania.
Likewise, Western Australians are permitted to use e-scooters which do not exceed 200 watts in power capacity. E-scooters which exceed this output limit are considered to be motor vehicles so must be registered to be used on roads or in other public places. Lime have not announced of any plans to trial their e-scooters in WA, but other companies are seeking permission.
What types of claims are excluded by TAC?
The TAC doesn't cover vehicles that can't be registered. If someone riding an e-scooter hits you or if you crash/fall off an e-scooter and injure yourself, you're unlikely to be covered by TAC. Claims against the rider can be made against some home and contents insurance, but otherwise compensation is paid out of the rider's pocket. If the rider has no insurance, money, or can't be identified, it remains unclear who will cover your medical bills and your time off work, because questions of liability and insurance have not yet seriously been considered by Australian agencies.
Ensuring that our cities are safe and accessible for pedestrians should be a key priority for councils and governments around Australia, and at every turn the law should reflect the need to protect our most vulnerable road users.
Co-authored by Nick Mann and Yen Tran from Polaris Lawyers.