Open space design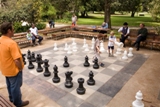 In 2009 the University of South Australia produced a detailed literature review on the relationship between open space and active living. Key points include:
High quality open space design and amenities are crucial.
People are more likely to be physically active in parks that are considered attractive. Attractive landscaping and ongoing maintenance is very important.
There is a multiplier effect in public space usage - design should cater for a diverse range of activities. Typically, at any given time around 65% of people in a park will be stationary.
Consider the specific needs of the elderly in designing open space.
Perceptions of safety are very important - good lighting, landscaping and definition of space are all helpful.
In designing for children, there is a tension between safety and fun.
People should have acces to open space within 10 minutes walk (about 800m).
Very urban public spaces such as city pedestrian plazas have their own dynamic. These spaces in particular need to be well designed if they are to be well utilised. Poor pedestrian spaces will not attract people to linger and will only provide for functional pedestrian movement and access.
Open space area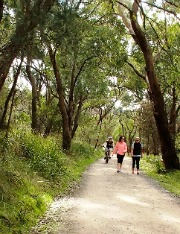 While international research generally suggests that access to open space is important to encourage walking, the connection is not entirely clear-cut. In fact, a study of 2300 people across Melbourne suggested that people walk less in areas with higher amounts of parkland (King et al 2012). This is consistent with some American research (Richardson et al 2011, Green cities and health: a question of scale?).
Australian cities generally provide substantial areas of parkland. In Victoria, new subdivisions typically provide 5% of their land area for parks. This is less than some other states (WA 10%, SA 12.5%).
Having access to parkland is positive, but when it comes to promoting walking, it may be a question of quality, not quantity, of park.
The location of parkland is also important. Urban planning needs to provide access to parks in the local neighbourhood. Healthy by Design argues that large local parks (over 1ha) should be provided within 500m walking distance, and small parks within 150-300m walking distance, of all dwellings. This is a different level of provision to that required by clause 56.05-2 of the Victorian planning scheme.
Resources
The Healthy Spaces and Places website provides resources on open space design.
The Open Space Planning and Design Guide produced by Parks and Living Australia and a group of Victorian councils provides extensive direction on open space planning generally. This includes a substantial section on open space design.