Case study - Bendigo walking information
Zone B - La Trobe University Student Planners
Zone B displays sustainable transport options on a user-friendly, accessible map of Bendigo.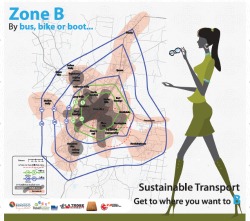 Using a multi-layered approach, Zone B allows users to locate where they live, shop, work or study and to easily identify the most suitable form of sustainable transport for getting there whether by bus, bike or boot.
Zone B is an initiative of Plan B – La Trobe University Student Planners' Association (who are a Victoria Walks Walkability Action Group). Plan B aims to involve all members of the wider Bendigo community in planning and ensuring a sustainable future for our great city.
Plan B members put on their walking shoes, hopped on their bikes and jumped on the bus to work out how long it takes to get from place to place
The results are marked on the Zone B map. It might surprise a few people how quick and accessible Bendigo is when using sustainable forms of transport.
Bendigo Universal Access Map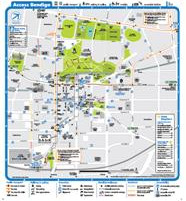 The Bendigo Heatwave Project and the B-Line Transport Connections Project have produced a Universal Access Map for central Bendigo including a Heat related information resource featuring locations around the city that provide an opportunity for respite and access to drinking water during extreme hot weather.
The aim of the Bendigo Universal Access Map has been to move beyond the provision of basic access and mobility information to provide a resource that is useful to all residents and visitors, including tourists, to the city of all abilities, across age groups and for a variety of activities.
The map is an additional outcome contributing to the asset mapping component of Transport Connections DPCD reporting requirements and fulfils a number of recommendations identified in the community development component of the Bendigo Heatwave Stage One Report.