Waterfall walks in Victoria
Waterfalls near Melbourne and Victoria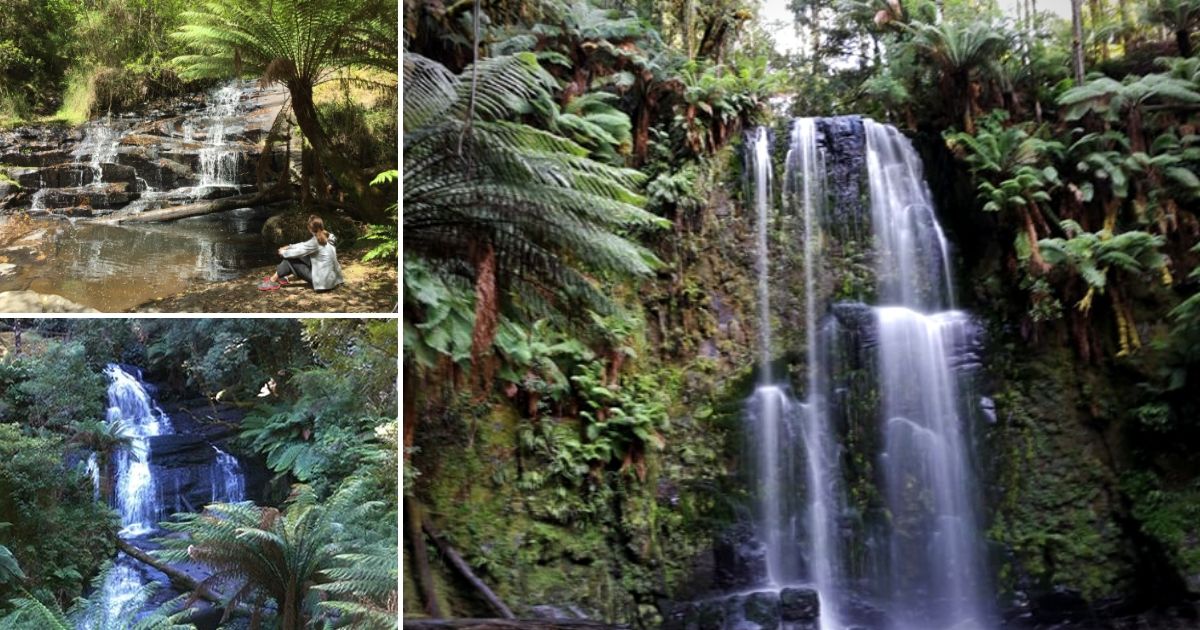 Waterfalls are generally at their best in winter or spring after decent rains so here's a guide to some of Victoria's best waterfall walking tracks, starting from the most impressive and finishing with the gentle trickles we still fondly refer to as waterfalls!


Worth a drive
MacKenzie Falls, the Grampians: A short but very steep walk down to the bottom of Mackenzie Falls, one of the Grampians' key attractions. You actually get two-for-one on this walk, which begins near the Broken Falls. This walk is only 2km but expect it to take about one hour.
Cyathea Falls, Tarra Bulga National Park, Gippsland: This 1.5km loop walk through rainforest featuring giant Mountain Ash, beautiful fern gullies and ancient myrtle beeches finishes at the Cyathea Falls. Make it step one of your Tarra Bulga adventure!
The Otways
The Great Otway National Park is home to some of Victoria's most beautiful rainforests and waterfalls. The 30-metre Erskine Falls close to the popular beachside town of Lorne is probably the best known, while Triplet Falls, Beauchamp Falls, Hopetoun Falls and Kalimna Falls are also very accessible. Click here for more information about these popular Otways waterfalls and the 130-metre Sabine Falls.
A lesser known but still lovely Otways waterfall walk is the Cora Lynn Cascades - a rewarding, hilly 5.5km walk beginning at Blanket Leaf picnic area. While not as spectacular as Erskine Falls, these cascades are certainly beautiful. When you get to the Cascades you might want to have a good look around - there is actually a series of waterfalls to see, but some require crossing the stream or scrambling down steep informal tracks to get a good look. Don't go off the main path unless you are confident in climbing around and try not to damage any vegetation.
A waterfall walk that is a little bit different is the amazing Cape Otway to Rainbow Falls, which is a spring-fed and trickles through algae to the rock platform below and includes fantastic views to Bass Strait. But there is not a lot of shade on a hot Summer's day.
For more waterfall walks in the Otways see Parks Victoria's guide and check for changed conditions before you set out.
Waterfalls near Melbourne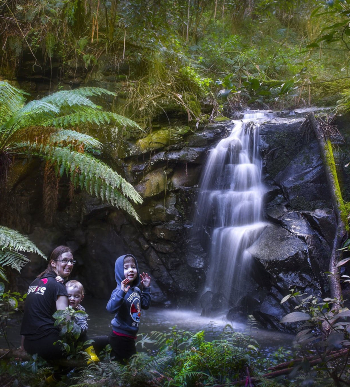 The Dandenongs are known for many great walks and gardens but waterfalls are not its strongest selling point. That said, there are some beautiful walks in the Dandenongs where you can hear the lovely sound of running water. This Sherbrooke Falls walk is a 7km loop from Belgrave train. It's a beautiful walk through the forest but be mindful that the track, steep in parts, can get muddy after rains. For a shorter 3km version see our Sherbrooke shorter loop walking map. The Dandenongs' other waterfall walk is the Olinda Falls - a short but lovely, shady walk through the Mountain Ash forest.

For more information on Dandenongs walks including Olinda Falls see the Visit Dandenongs Ranges site.
Not far form the Dandneongs the Yarra Valley also features some great waterfall-hunting opportunities, including one of Victoria's biggest falls (84 metres) in Steavenson Falls at Marysville. This 700m walk starts at the Steavenson Falls car park but if you'd like to walk the 3.5km from Marysville take this longer route (7km return) along the Tree Fern Gully trail.
Further east of Marysville the Keppel Falls walk in the Yarra Ranges National Park is an easy 1km each way, but be aware the main access road, Lady Talbot Drive, is usually closed over the winter months.
Mason Falls, Kinglake National Park: This 4.7km loop walk takes you through forests still regenerating from 2009's devastating Black Saturday fires. At dry times the falls may leave you flat, but it's actually a high and dramatic waterfall, especially when there has been a lot of rain!
Sailors Falls, near Daylesford: Ok we're nearing the trickle end of our list but this little loop walk through Victoria's mineral springs region is still worth a look but mind there's is only a decent fall after heavy rain. The recently built staircase down to the bottom of the falls is the new attention-grabber here.
Buckley Falls, located near Geelong, makes a great shorter walk for families.

Stretching it ...
Sure this might be pushing things a bit but if you're in the city and need to hear the sound of rushing water then Dights Falls on a bend in the Yarra makes a lovely destination walk; just close your eyes when you get to "the falls" and imagine! This 5km loop begins near the Studley Park boathouse and takes you along Melbourne's infamous waterway.
Alpine
Carmichael Falls, Dinner Plain – This is a lovely 2km return walk through the snow gums. The falls are impressive although you get a fairly long-range view from this track's viewing platform (but there's a bonus mini falls along the way!)
More information to help plan your waterfall-themed Victoria Walks: