Walks in Bass Coast Shire
Bass Coast walks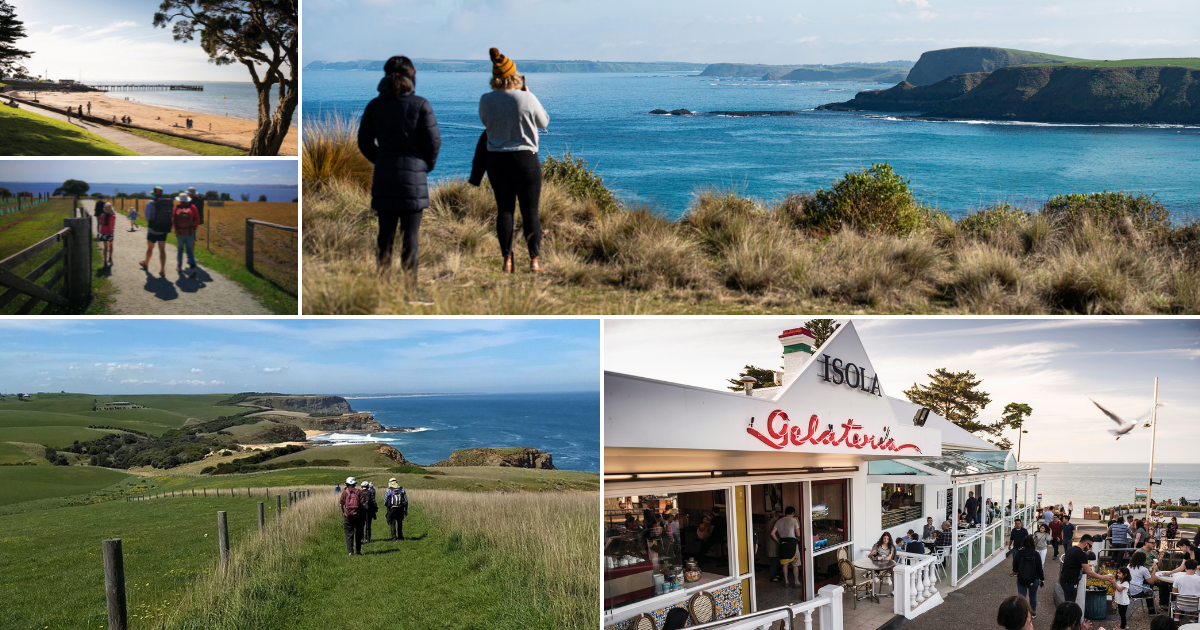 The name says it all - this special part of Victoria is home to some of the best coastal walks in the state.
Click on the name of each walk below for a great preview of each walk. Each one of our Walking Maps features route photos, duration if walk, Google directions to the trail and any other information you need to guide your walking adventures.
Walks on Phillip Island and Churchill Island
Pyramid Rock to Berrys Beach (6.7km return walk with coastal views)
Beginning with views of the impressive Pyramid Rock, this exposed coastal walk along the Island's southern clifftops will take about 2 hours to complete there and back. Toilets are avaiulable at each end. Dogs are not permitted.
Cape Woolamai to Beacon Point (7.4km return walk with coastal views and woodlands)
This is one of several great walking options at the Cape and can be done at high tide (unlike some of the other options). It includes varied landscapes - a beautiful beach, a woodland teeming with butterflies and wallabies, a great view from Beacon Hill and the rugged, spectacular beauty of the Pinnacles rock formation. Toilets are available at the start point (Woolamai Beach Surf Life Saving Club).

Keep away from the water's edge as you walk the first section along the beach as this section of coast is notoriously rough and unpredictable.
Rhyll Inlet wetlands walk (2.1km one-way, 4.2km return)
Enjoy this walk through the RAMSAR-listed wetland habitat on Phillip Island's north-west corner.
Views over mangroves at low tide. You can enjoy a food break at the waterside township of Rhyll before returning to the start point (Conservation Hill). Dogs are not permitted on this walk.
Forrest Caves walk (1km each way along the beach at low tide)
These sea caves formed by erosion of cliffs over millions of years are only safe and accessible at lower tide times. Take care of incoming tides and view the caves from a distance. Toilets are available at the car park (start point).
Oswin Roberts Reserve walk (4.6km woodlands circuit)
This is a lovely loop walk through a patch of Phillip Island's remaining remnant bushland, gifted by Florence Oswin Roberts for conservation. It is halfway between the bridge and Cowes (behind the Koala Conservation area). Shorter loop walks are available here. It is pram-suitable. No toilets however!

Flynns Beach walk (2.5km return beach walk)
A picturesque stroll along a relatively secluded beach at the western end of Phillip Island, near the Nobbies. The historic, skeletal jetty is great for photos! Popular with experienced surfers, take care and keep away form the water's edge as this beach is not patrolled.
Kitty Miller Bay to Shipwreck walk (2.4km return, low-tide walk to shipwreck)
Ahoy! This short but adventurous walk takes you to the remnants of a 1906 shipwreck. You must do this walk at low tide. This walk involves a very steep section from the cliff down to the beach so is not advisable for people with mobility constraints.
Swan Lake walk (1.7km loop / return to car park)
This is a tranquil, short walk ideal for children and nature-lovers of all ages. It provides a great opportunity to view birds enjoying a lovely freshwater habitat. There are two bird hides so pack some binoculars!
Churchill Island northern loop (2.6km loop walk)
This gentle walk around the north end of the petite Churchill Island combines beautiful views over Western Port Bay, an historic farm and native, forested areas. Please note you can do ths walk for free, however there is an entry fee to the historic farm. Toilets available at the Visitor Centre.
Cowes main beach walk
A nice stroll along the north-facing bay beaches of the main Island township, Cowes. Sites include the jetty, yacht club and a plethora of rockpools at low tide. Children will enjpoy the playground at Erehwon Point. Toilets available on beachfront near the Jetty and near the playground.

More walks in Bass Coast
George Bass Coastal Walk (8km one-way, 16km return)
This is a fantastic day walk, 8km each way from San Remo to Kilcunda, featuring spectacular coastal views. There is a great General Store serving up cafe fare at Kilcunda, but no services exist at the San Remo end of the walk, which is located a good drive from the township.
The map is one of our most popular! Dogs are permitted but must be kept on lead at all times.This walk includes sections along sandy beaches.
Cape Paterson clifftop walk and rockpool (2.5km return)
Sometimes called the 'Foreshore' walk, this actually takes you along a well-defined clifftop track with views out of Bass Strait. We finish the walk with a trek down to the beach to see the much-loved, man-made rockpool - great for a wade.

Inverloch west walk (2.5km loop walk)
A National Park, sculptures, surf and a shipwreck! There's a lot to love about this stroll around gorgeous, coastal Inverloch.
Screw Creek nature walk, Inverloch (3km return beach walk from town)
Boardwalks and low-tide adventures, suitable for children. This map was not created by Victoria Walks staff.
Anderson to Kilcunda walk (13km one way, including loop of Kilcunda)
A longer day walk with the option of using public transport (Cowes-Inverloch V/Line bus service) to and from the start and finish points. This map was not created by Victoria Walks staff.
Wonthaggi East area trail (3.4km one-way from town to Coal Mine)
This walk joins the Wonthaggi State Coal Mine to the Poppet Head in Apex Park; a tribute to Wonthaggi's coal mining history in the heart of town. Choose your own beginning and end!

Grantville Foreshore walk (1.8km return)
This lovely, sheltered beach is a wonderful place to walk; a great reason to stretch your legs if you're headed to other Bass Coast destinations such as Phillip Island or Inverloch.
Dogs on-leash allowed. Click map link above for more details.
* Note that parts of this walk may be inaccessibe at high tide.
Our Walking Maps are created by staff at Victoria Walks, our partner organisations and by members of the general public. We will continue adding more maps to this page, but see the Visit Bass Coast site for more information about these and other walks in Bass Coast Shire Council, including the Bass Coast Rail Trail. Also see the Shire's great hiking itinerary suggestions.