Green Walks in the Park

The Green Walks in the Park Program aimed to inspire more people to walk, more often, in local parks, state parks and bushland reserves. This was a Victorian Heart Foundation initiative funded by Parks Victoria with support from Victoria Walks.
See map below and flyer for overview of all Green Walks in Melbourne.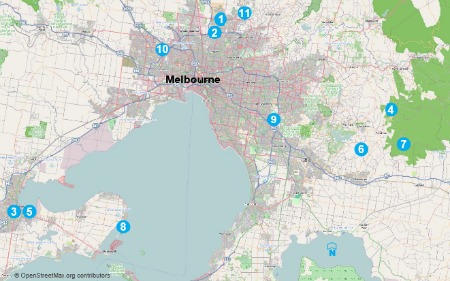 1. Peppercorn Park, Epping is a short walk that allows you to enjoy a small slice of countryside on your doorstep. At times on this walk it is easy to imagine you are a long way from the city. See flyer.
2. Main St Reserve, Thomastown is an easy and very accessible walk along the creek, passing by an historic church and an original 1850s farmhouse. There are great picnic spots and open play areas along the way. See flyer.
3. Barwon River Walk, Geelong is a circuit walk that gently winds along the Barwon river in Geelong, allowing you time to soak up the abundant riverside vegetation, birdlife and wetlands. See flyer.
4. Kurth Kiln Walk, Kurth Kiln Regional Park is a wonderful loop walk that follows the Tomahawk creek both up and down stream. Along the way the walker is immersed in forest flora and gorgeous creek views. See flyer.
5. Eastern Park, Geelong is a walk that takes you around Eastern Park, along the way there are wonderful trees, open play areas and flying foxes. Then it's time to explore the heart of the park - the Botanic Gardens. See flyer.
6. RJ Chambers Reserve, Pakenham is a wonderful walk through a reserve with a rich diversity of flora. Birdlife abounds. You might even spot a lyrebird or echidna along the way. See flyer.
7. Button Grass Walk, Bunyip State Park is a superb walk that winds through woodland and a beautiful wet heathland. Along the way you will encounter a variety of flora including hakeas, wattles, tea-tree and button grass. See flyer.
8. Edwards Point Walk, St Leonards combines rare coastal woodlands and a beautiful coastline, this loop walk immerses the walker in natural beauty and a genuine sense of remoteness. See flyer.
9. Jells Park Walk, Wheelers Hill is a very popular and gentle walk that includes beautiful open parkland, lakeside views, abundant birdlife, and lush wetlands. See flyer.
10. Brimbank Park Nature Trail is set in very beautiful and picturesque surroundings, Brimbank Park is home to a diverse range of native flora and fauna. Like so many hidden gems, you have to get walking to discover its secrets. See flyer.
11. Plenty Gorge Walk, South Morang is a hidden treasure of native bushland and wetland is home to kangaroos, echidnas, egrets, herons and swans, to name a few. The walk will take you back in time, leaving your worries behind. See flyer.