Walking in Towong Shire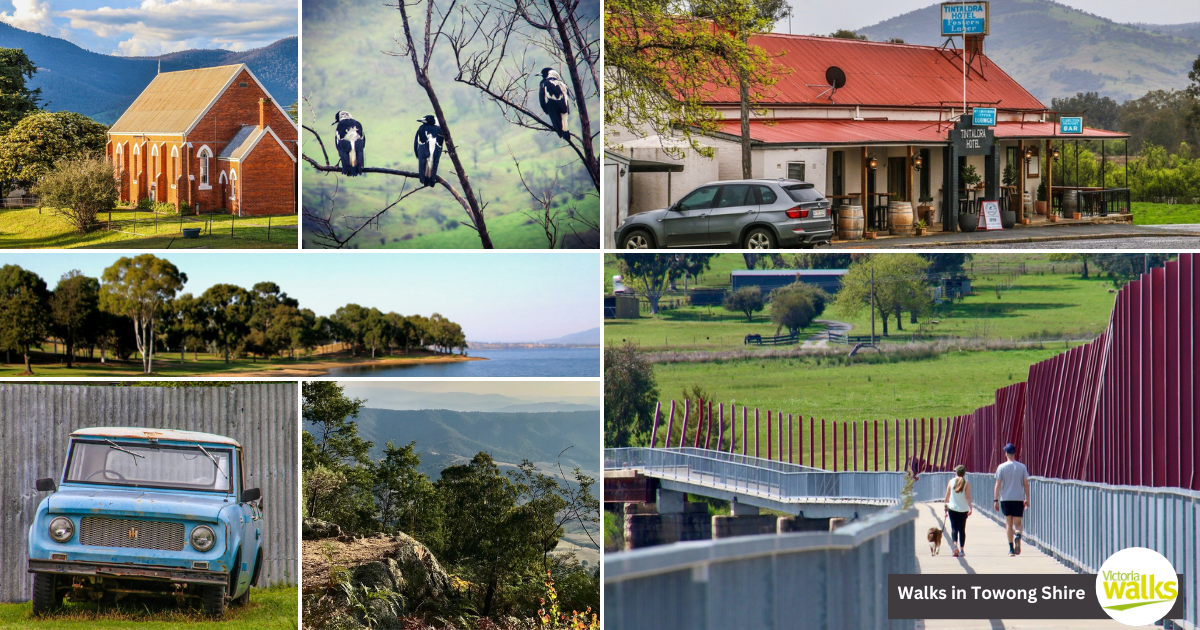 Explore the diverse landscapes and beautiful trails of Towong Shire in Victoria's north.

Walks near Tallangatta, Shelley, Bellbridge and Huon
Lake, Town and Rail Trail, Tallangatta
With comprehensive local history at your fingertips and a beautiful lake frontage to explore, there are plenty of reasons to enjoy this Tallangatta loop walk.
Memorial Park walk, Tallangatta
If you are looking for a short return walk to get the feel of this charming township, this is the one for you. It takes you from the centre of town to an easily accessible parkland and hilltop view.
Sandy Creek bridge walk (eastern approach) Huon
The eastern approach Sandy Creek bridge return walk crosses the bridge, has great views, is shorter and flatter that the western approach. It may be preferable for walkers less able or with less time.
Bellbridge Foreshore walk (Bellbridge)
Take in the majestic Lake Hume and two of its iconic features. As you walk this attractive foreshore return trail admire historic Bethanga Bridge and view the Lake Hume dam gates across the water.
Avondale Garden walk, Shelley
Visit this diverse exotic garden island isolated deep within a vast monocultural sea. Avondale Garden amongst the pines offers a pleasant short loop walk.
Lawrence Lookout walk, Shelley
Lawrence Lookout has a spectacular view of the Australian Alps. There is a short return walk to a picnic shelter and toilets nearby.
Mountain Creek walk, Shelley
Mountain Creek runs through green forested slopes and moist gullies. This pretty, short walk crosses two foot bridges as it loops its way back to the road.
And walks near Corryong, Koetong, Bullioh, Granya and Burrowye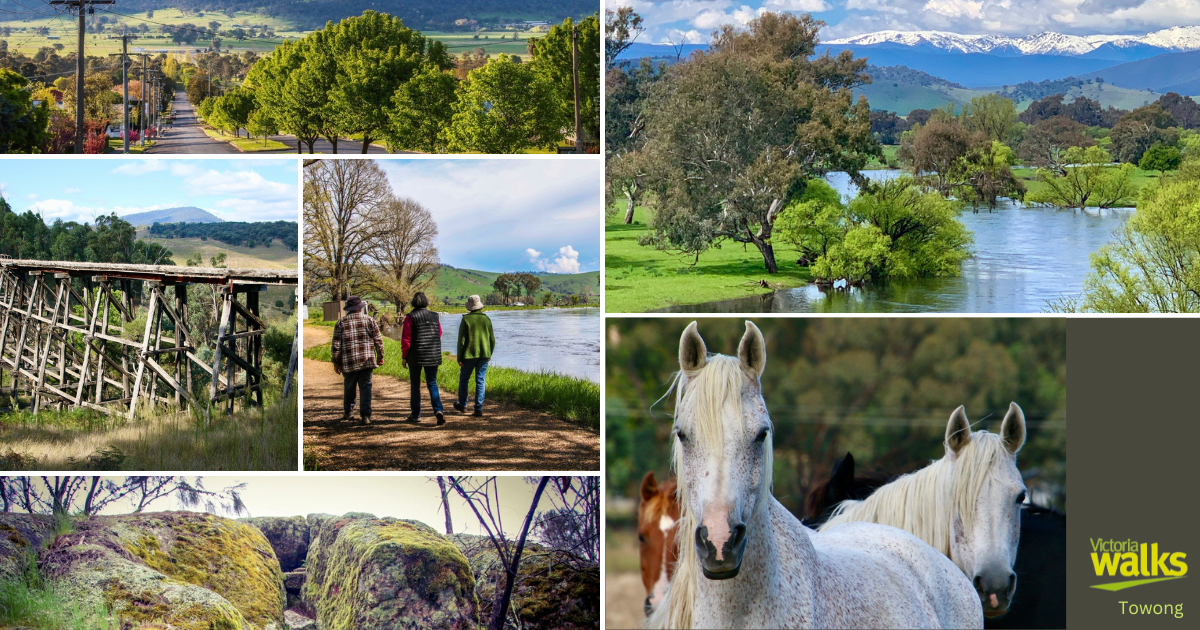 Boggy Creek Trestle walk, Koetong
A short, forested and shady return walk of less than 1km takes you to another of the remarkable High Country Rail Trail (HCRT) trestle bridges.
Conic Range walk, Koetong
The Conic Range return walking track takes you to Conic Rocks for superb views across Lake Hume, the mountains of New South Wales and Victoria. The summit rocky outcrop is gorgeous.
Dry Forest Creek trestle walk, Bullioh
This High Country Rail Trail (HCRT) return walk goes to Dry Forest Creek Trestle Bridge - the first in a series of historic trestle bridges. It is easy walking. After here the trail begins to climb.
Waterfall and Darbyshire Hill trestles walk, Bullioh
A pretty as a picture return walk, Darbyshire Hill marks the beginning of a High Country Rail Trail (HCRT) climb including the historic trestle bridges Waterfall and Darbyshire No. 2.
Granya Falls walk, Granya
Situated at the base of the forested slopes of Mt Granya, this satisfying return walk is a nice outing to combine with a picnic either at Cotton Tree campground or the historic Scout Hut.
Mt Lawson summit walk, Burrowye
This is a walk for the views. They make for a panoramic spectacle. The State Park is also known for its many species of flora and fauna. Keep your eyes open.
Corryong Circuit Trail, Corryong
This loop trail provides a pathway that connects points of cultural, natural and historical significance around Corryong township. Surrounded by mountains and steeped in history, there is much to see.
Playles Lookout walk, Corryong
Playles Lookout provides almost 360 degrees of sweeping views across the Corryong valley to surrounding mountains.