Explore Melbourne's western waterways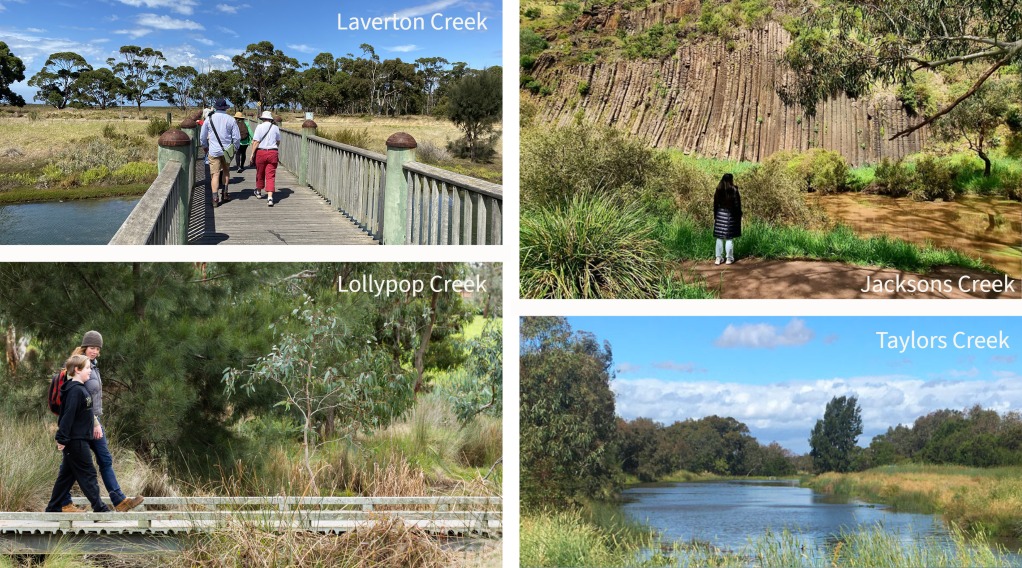 With wide-open spaces, abundant birdlife and beautiful views, there are plenty of fantastic places to walk in Melbourne's west!
Rivers and creeks have carved through the volcanic plains of the west, creating havens for biodiversity and beautiful places for walkers to enjoy and appreciate.
While rapid urban expansion is putting increased pressure on the natural environment, collective efforts are helping counter these forces. For several decades, community groups, Melbourne Water and local councils have been helping restore waterways, revegetate landscapes and improve biodiversity.
Victoria Walks has worked in partnership with Melbourne Water to create maps that share the best places to walk along waterways of the west.
The 18 walks below will have you connecting with nature, exploring volcanic rock formations, and reaching for the binoculars to spot wildlife - maybe even a platypus!
Jump to:
Werribee River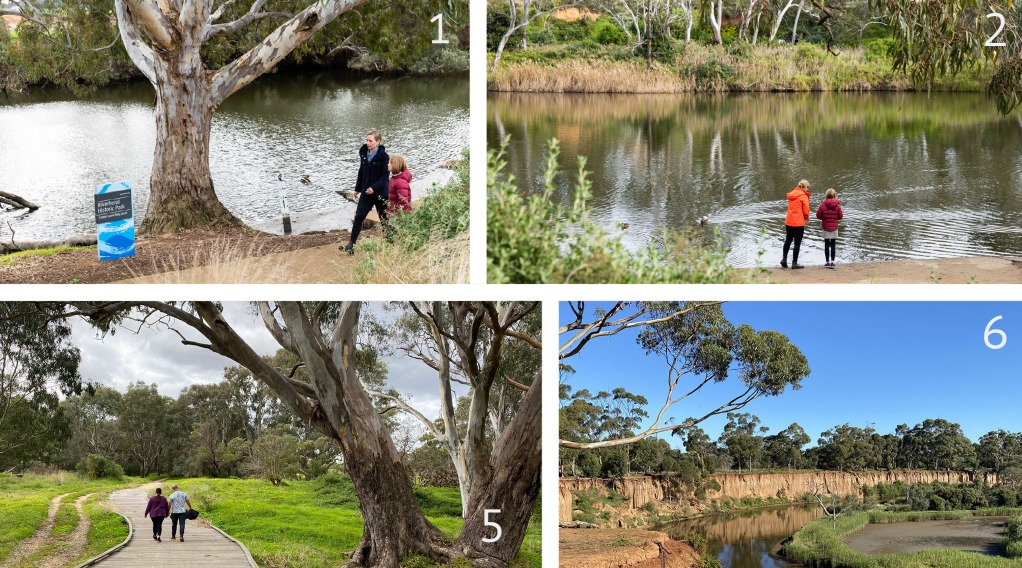 1. Riverbend Park to Davis Creek, Tarneit, 3 km each way
Wander along the Werribee River to the wetlands and billabongs of Davis Creek. River redgums, birdlife and croaking frogs make this a wonderful walk to connect to nature. 
Explore Wyndham Park and the Werribee River in the heart of Werribee's CBD. Platypus have been sighted in all sections of the Werribee River, including this section of the river, right in town. Wyndham Park has been updated with fantastic new playgrounds and is a destination in its own right.
A fantastic loop along the Werribee River that feels more like the countryside than the urban fringes. Highlights include ancient River Redgums, tranquil river scenery, market gardens and historical markers.
4. Urban hike along the Werribee River

Stretch your legs along 8.5 km of continuous riverside pathways in central Werribee (17 km return).
5. Werribee River Park, Cocoroc

2.6 km loop taking in escarpment views, the historic bluestone ford and peaceful red gum bushland. Werribee Open Range Zoo and Victoria State Rose Garden are located close to this walk.
A short but spectacular walk to view the dramatic red cliffs over the Werribee River. A haven for waterbirds and photographers! 
Take a seaside stroll along the less-explored coastline of Port Phillip Bay. The Wyndham Bay Trail stretches from the new Wyndham Harbour to the Werribee South Foreshore where the Werribee River meets the bay. 
Lollypop Creek
Lollypop Creek Trail, Wyndham Vale, 4.4 km loop
A series of elevated boardwalks open this 4.4km loop walk allowing you to get up close to the rehabilitated wetlands. This section of the Lollypop Creek Trail leads to the spectacular and serene Tucker's Waterhole.
Skeleton Waterholes Creek

1. Skeleton Creek from grasslands to wetlands, 7 km loop
A fantastic loop following the Skeleton Creek Trail from Emu-Foot Grassland, a reserve of significant local flora, to Cheetham Wetlands, a haven for shore birds and water birds.
2. Skeleton Waterholes Creek, Truganina and Tarneit, 5 km loop
A varied and interesting wander along Skeleton Waterholes Creek and Tarneit Creek. With wide-open space and wetland habitats, this walk is excellent for connecting to nature in Melbourne's west.
Jacksons Creek
Organ Pipes National Park, Keilor North, 3.2 km loop
A short walk along Jacksons Creek in a small national park named after the volcanic rock formations that resemble organ pipes. At creek level, this is a lovely shady place to walk and explore.
Taylors Creek
Taylors Creek lakeside loop, Taylors Lakes, 3.4 km loop
A great walking track around the scenic lakes and wetlands of Taylors Lakes. This walk is popular with families, joggers and people enjoying time outdoors.
Moonee Ponds Creek
Woodlands Historic Park, Moonee Ponds Creek, Greenvale, 3.8 km loop
Stretch your legs in bushland at Woodlands Historic Park. This walk has kangaroos, abundant birdlife and ancient River Red Gums along the upper reaches of Moonee Ponds Creek.
Coastal wetlands and river estuaries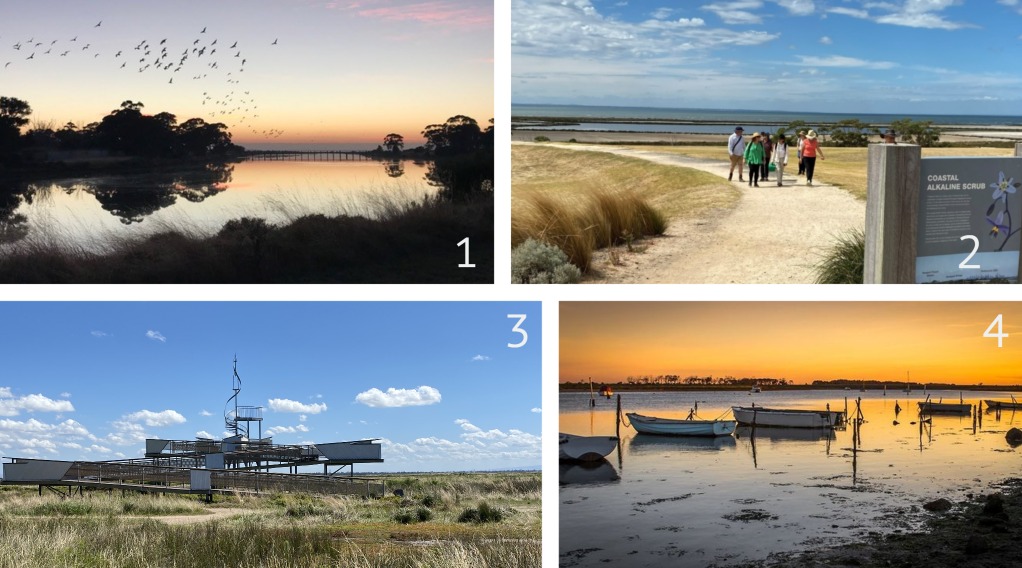 1. Truganina Park Trail and Laverton Creek Spit, Altona 4 km loop
Truganina Park is a bird watcher's paradise and a great place to walk through coastal parkland. This trail starts and finishes at Altona Foreshore, crosses Laverton Creek and loops around Truganina Park.
2. Altona Skipper Butterfly Loop, Truganina Park, Altona Meadows, 2.3 km loop
Walk up the "100 Steps to Federation" hill for the best views in the west. On a clear day, you can see the CBD, ships on Port Philip Bay, Cheetham Wetlands and the You Yangs in the distance. This circuit walk on the Truganina Park Trail takes in important habitats for rare species including the Swift Parrot and Altona Skipper Butterfly.
3 Cheetham Wetlands, Point Cook, 3 km loop
Explore the wetlands and salt marshes from the boardwalks and observation tower at Cheetham Wetlands in Point Cook. This expansive park is important for migratory shorebirds that visit Port Phillip Bay from the northern hemisphere.
Take a seaside stroll along the less-explored coastline of Port Phillip Bay. The Wyndham Bay Trail stretches from the new Wyndham Harbour to the Werribee South Foreshore where the Werribee River meets the bay. 
5 Day hike in the west, Laverton to Williamstown 22 km one way, station to station
A fantastic 22 km walk taking in creeks and wetlands that feed into Port Philip Bay. This walk links Skeleton Creek to Bay Trail West, past Laverton, Cherry and Kororoit Creeks to Williamstown Beach. Public transport accessible!

Victoria Walks has worked in partnership with Melbourne Water to map walks along the waterways of the west. These maps were supported by Melbourne Water, Liveable Communities, Liveable Waterways incentives program.