Walks in Alpine Shire, Victoria
Walking in Victoria's Alpine region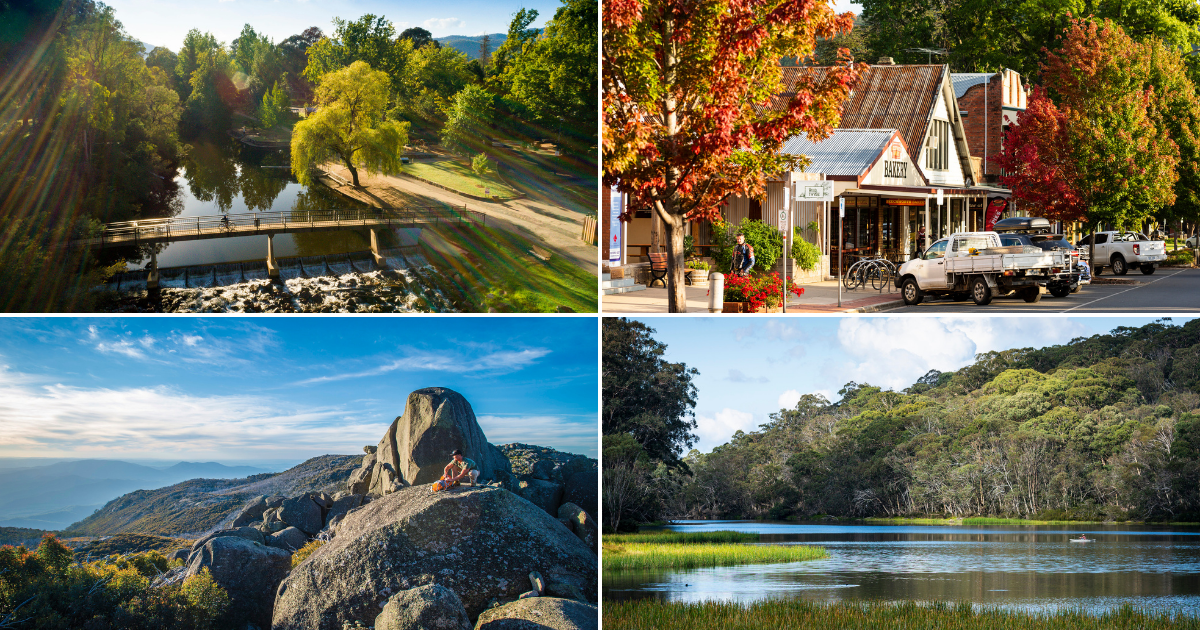 For digital maps, walk info and photos see the Walking Maps we've created in Alpine Shire by clicking on the names of the walks listed below.

Bright
Canyon walk (3.5km riverside loop walk)
A must-do walk if you're staying in the lovely town of Bright, easily accessible from the town. Follow the Ovens River traversing areas of scenic, historical and natural value. Popular in summer (watch the people on lilos floating by!) and in Autumn when Bright's deciduous trees are at their very best.

The Cherry Walk (5.2km riverside loop walk)
This walk begins from a similar spot to the Canyon walk but heads in the other direction (east) along the river to Cherry Bridge. Though longer, this walk is more accessible with very few steep sections and can be negotiated by those pushing a sturdy pram. The track is mostly packed earth and gravel and is mostly shaded. Click the walk name above for more details and photos.


You may also wish to explore the small Bright Waterwise Garden in the centre of town with this map created by local volunteers (Upper Ovens Landcare group).
Mount Buffalo walks
The stunning Mount Buffalo National Park is a great place to base yourself with 90km of walk trails to choose from to suit a range of fitness, abilities and tastes.
Lake Catani circuit walk (3.5km loop)
A surprisingly varied walk on the Mt Buffalo plateau, this 1-hour loop is especially beautiful in the warmer months with wildflowers, wildlife and kayak-spotting aplenty!

Chalwell Galleries walk, Mt Buffalo (2.5km return)
Beautiful scenery and rock scrambling adventures await those who undertake this brilliant short walk by Lake Catani.This walk is great for people with a sense of adventure, and many young children will enjoy the challenge - however it's not advisable for those with mobility challenges or who do not feel comfortable in small, tight places!
Cathedral Hump track (2.2km return climb)
Put this varied climb on your Mount Buffalo 'must-do' list as its stunning and varied views make it well worth a bit of huffing and puffing. A highlight is the close-up, awe-inspiring sight of the craggy, granite 'Cathedral'. Then head up to the Hump, and while it may be tempting to stay for sunset, allow yourself plenty of time (and light) to make your way back down the winding, rocky paths to the picnic area.
Rollasons Falls walk, Mt Buffalo (2.5km return)
A gorgeous walk down through a Eucalypt forest to the two-tiered Rollasons Falls and swim hole on beautiful Mount Buffalo.
Myrtleford and Porepunkah walks
Myrtleford Mosaic Trail (also known as the Ovens River loop walk, 5.3km)
Thanks to two local artists this lovely walk along the Ovens River is home to 70 mosaics, hidden along it (probably more since this map was created!) How many can you find?

Porepunkah riverside loop
A pleasant 3.5km riverside stroll in lovely little Porepunkah, near the foot of Mount Buffalo and just 6km from Bright. This walk starts at Riverside Park, just off the main street; very popular in summer as it has a patrolled river pool (and a toddler's wading pool built into the bank). The walk heads back into town along the Murray to Mountains rail trail and past a popular cafe.
Mount Beauty walks and Tawonga South
Pebble Beach river walk, Mount Beauty (4km return)
This easy, flat walk follows a sealed track along the eastern bank of the lovely Kiewa River. Beginning 100m north of the Visitor Centre the track becomes more shaded as you approach the 'beach' - a wide, inviting stretch of the river popular with swimmers during the warmer month. Pack river shoes as well as your swimwear if you want to cool off, as the rocks are slippery (and painful!) to walk on. See walk link above for photos, map and more information.
Harrietville and Hotham
Harrietville's Tronoh Dredge Hole circuit (2.3km walk starting in town)
If you're in need of a gentle, easy stroll (followed by a swim!) then this is a perfect summer option. This is one of the short walks in the 13.5 hectare Tronoh Lake Reserve south-east of the Harrietville township. The approach to the lake is through a small forest of towering pines and in summer the bank is teeming with family and friendship groups. See the map link above for more details.

More information about walks in Victoria's Alpine region
For more information about walking in Alpine Shire head to this page. and please note that for printed maps PDF brochures of many of these walks are available at this link.