Walks in East Gippsland
Gippsland's great walks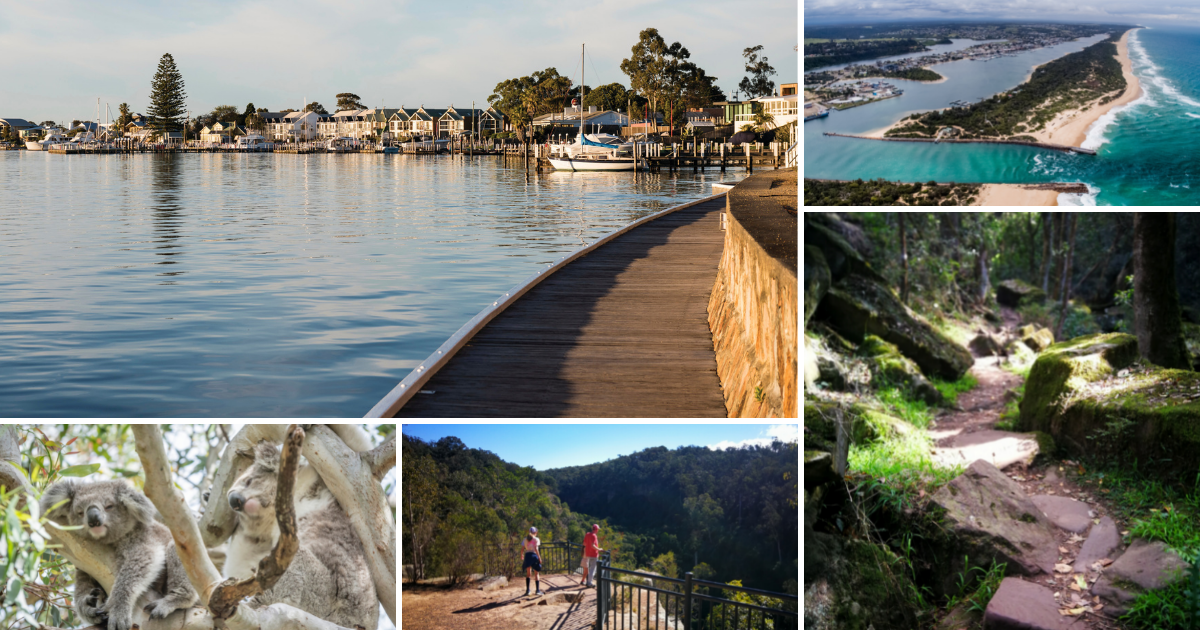 Home to the Gippsland Lakes, Ninety Mile Beach, beautiful inland forests and coastal gems such as Mallacoota, East Gippsland is a walker's paradise. Click on the walk names below for map, directions, photos and information about each walk.
Lakes Entrance
The Entrance walk (5km return)
A stunning loop walk, following the coastal bush track to the actual Lakes 'Entrance', with plenty of highlights. You can choose to return along the track or via the wild, beautiful Ninety Mile Beach.

Kalimna Jetty walk, Lakes Entrance (4km return)
The hidden gem of Lakes Entrance, this out-of-the-way walk affords some of the best and most uncluttered views over the town and extensive system of waterways this region is famed for.
Esplanade walk, Lakes Entrance (5km one-way)
The best view of the Gippsland Lakes is the waterfront view! Thankfully there's a walking path tracing the water from one end of Lakes Entrance (Bullock Island) to the other (Eastern Beach).

These walks were mapped with assistance from Lakes Entrance Action and Development Association.
Metung
Metung waterfront walk, 5km
This gorgeous 5.5km return walk takes you all the way along Metung's picturesque waterfront, from Chinaman's Creek to Shaving Point.

It's a beautiful walk, with Metung surrounded on three sides by water! The walk is mainly along sealed track and boardwalk so it's suitable for most abilities. However, dress for all weather as the wind can be fierce coming off the Lakes / Bancroft Bay as you exit the town and head toward Shaving Point.
Nyerimilang
Nyerimilang Heritage Park cliff top and homestead circuit
This scenic 5km loop walk begins at the heritage Nyerimilang Homestead (10km west of Lakes Entrance). Out route meanders along bush and heritage farm tracks, past wetland areas with views over Reeve's Channel and Bass Strait. Pack your binoculars! A lovely walk for all ages with options to make shorter or longer.
Nowa Nowa
Nowa Nowa Wetlands walk (3km return, or shorter 1km all-abilities)
This wetland ramble follows the shores of Lake Tyers, meandering through paperbarks and reeds with swans and Pelicans as likely company. The first section of this walk suits all abilities.
Paynesville and Raymond Island
Raymond Island koala walk (3km loop)
Catch the free ferry over to Raymond Island from Paynesville to enjoy this gorgeous little loop through koala habitat before heading back along the boardwalk with views over the Gippsland Lakes.


Mitchell River National Park
Den of Nargun walk, 4km circuit
Tradition has it that the Nargun lives here, a fierce being, half human and half stone. The Gunaikurnai people ask you to respect this special place by admiring the cave from a distance.
Bruthen
Bruthen town and country circuit
This 2km loop walk follows formed track past views of rolling hills, which frame this lovely green village. There are also plenty of historical shopfronts to admire, plus food stores and a gallery to tempt you indoors. Bruthen is one stop on the East Gippsland Rail Trail, but if you're arriving by car or bus this walk gives you a preview of that too.

Bruthen Walking Trails: Easy Magic Loop
A short 600m accessible circuit track through state Eucalypt forest, just a 5-minute drive north of town. A great launch pad for some longer Bruthen bush walks close by.

Bruthen Walking Trails: Explosive Magazine Loop
Take in the lovely Box Ironbark forest (part of the Bruthen State Forest) while learning about the area's indigenous history, and some explosive facts about its recent past.
Bairnsdale
Mitchell River loop walk
Take this gentle 5.5km riverside loop walk just north of the township. It encompasses two breidge crossings, a large bat colony, information about indigenous heritage and a greatplay area for kids.
Further East
McKenzie River Rainforest walk, Bemm River Scenic Reserve
This 1km loop walk is a great place to break the long drive across East Gippsland to or from NSW. There are picnic tables at the walk start, with public toilets and bins at the rest area on the highway nearby. Carry your own drinking water.

Our East Gippsland Shire walks were mapped with support from VicHealth.
Mallacoota
There are so many great walks to do in Mallacoota we had to create a seperate page.
See our 10 walks in Mallacoota.