Engineering for walking
17 Sep 2015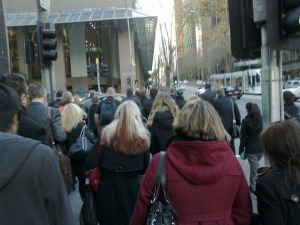 The Institute of Transport Engineers October Seminar will focus on planning for pedestrians.
The speakers will be:
Damon Rao – Transport Policy Coordinator, City of Melbourne, who will outline the City's Walking Plan.
Manuel Lawrence – Transport Planner at Arup, discussing dynamic pedestrian modelling in stadiums and stations.
Dr Richard Tay – Senior Research Fellow in Economic and Social Development , RMIT University, who will outline new work on pedestrian level of service.
The seminar will be held from 4.30-6.00pm on 8 October 2015 at RMIT in the Melbourne CBD - check out the flyer on the event webpage for more details. This is a free seminar and anybody is welcome.
Victoria Walks made two presentations to the Institute's May seminar Sustainable Transport: Focussing on Walking. It's great to see an engineering organisation taking walking seriously and exploring ways to help people on the street.