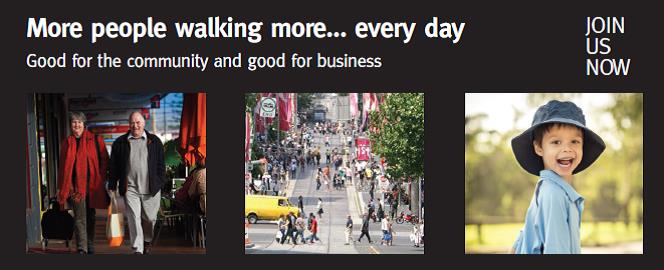 Become a Supporter of Victoria Walks
This opportunity is open to all businesses, councils and community groups that aspire to promote happier, healthier, safer, stronger and more sustainable communities
As a supporter of Victoria Walks, your organisation will send a clear message to all stakeholders that it supports more liveable communities, walking for transport and walking as a path to healthy people. It will enjoy positive name association with the Victoria Walks brand, along with opportunities to network at the highest levels with other supporters and partners of Victoria Walks.
A Supporter of Victoria Walks will have access to a wide range of benefits including:
Targeted input into a policy and business planning process, on request (up to two hours per year)

Discounted service offerings such as strategic reviews, research support and access to industry experts for conferences/community events
Priority invitations to Victoria Walks events including the Annual Supporter Event and discounted tickets to Victoria Walks paid events
Acknowledgement at the Victoria Walks Annual General Meeting
Monthly e-newsletter
Supporter Certificate for public display
Logo visibility on Victoria Walks' website
Acknowledgement through Victoria Walks' social media channels.
View the Official Supporters brochure here
Terms and Conditions
Supporters of Victoria Walks become Associate Members (non-voting) of the organisation. Any not for profit organisation or business that supports the Purposes of Victoria Walks Inc may apply for associate membership.
Victoria Walks has two classes of supporters:
Official Supporters
Corporate Supporters
Eligibility
Not-for-profit, local government, school, university or peak body
Any business or professional body that is not eligible to join as an Official Supporter
Annual fee
$1000 + GST
Small business (annual turnover <$2m): $1000 + GST
Medium business (annual turnover $2m to $5m): $2500+ GST
Large business / ASX Listed (annual turnover >$5m): $5000 + GST
Voting rights
None
None
Benefits
Official Supporters' brochure
Corporate Supporters' brochure [to be developed]
Terms
See Policy
See Policy
If you have any queries with this application form please contact us at supporter[AT]victoriawalks.org.au.