Working for walking
14 Sep 2016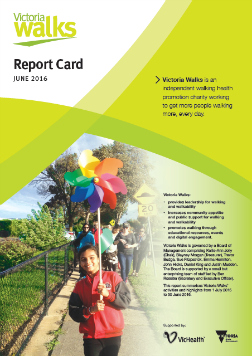 New and improved walking maps, getting kids out and about, ground-breaking research and new supporters. These are just some of the achievements outlined in Victoria Walks' latest Report Card, for the 2015/16 financial year.
Highlights of the last year have included:
Significant digital enhancements to the Walking Maps website to improve the design, navigation and user interface. As a result, visits to Walking Maps in the last 12 months increased by 55%.
Delivered a new Incursion Program to 20 primary schools and 2,250 students, with funding from the Department of Health and Human Services. The program included pedometer-based maths and science walking activities and My School Walking, which encourages students to explore their local neighbourhood and move around independently in their community.
Launched the Official Supporters Program, and welcomed our inaugural supporters: Ballarat, Bendigo, Casey, East Gippsland, Maribyrnong, Melbourne, Monash, Port Phillip, Warrnambool, and Whitehorse Councils and the Bus Association Victoria.

Worked with the Monash University Accident Research Centre to conduct Australia's first comprehensive study into falls in the street while walking.
Provided detailed recommendations for road design in the Safer Road Design for Older Pedestrians report, funded through a TAC Community Road Safety Grant.
Produced 24 high-quality walking maps for Latrobe City Council's new ParkTracks app.
Supported Yarraman Oaks Primary School to establish and trial a Family Walking Club.
We are also building an online community of people who love walking. During the last 12 months, our Facebook followers more than doubled to over 35,000.
The Report Card provides more highlights and an overview of our work in government policy to promote more walkable communities. It also takes a look at the exciting year ahead.