Talking walking in Tasmania
14 Dec 2016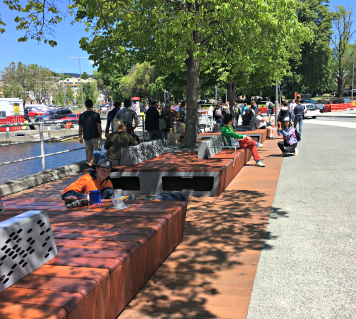 Fresh from his plenary panel session at the Walk21 conference in Hong Kong, Victoria Walks' Executive Officer, Ben Rossiter, has taken the walkability message to the Apple Isle.
Ben was invited by the City of Hobart to give the keynote presentation at the Walk this Way Workshop on 18 November. He provided an introduction and inspiration for the community forum, which focussed on how to create a walking-friendly and active West Hobart.
"I was thrilled to participate, because it's a rare occurrence to get elected officials, council officers and community members together to talk about walking and walkability," Ben said. He was impressed by the participants and encouraged by their interest and desire to see real change. "It would be great to see more councils and communities hold such outcome-centred workshops."
Ben's presentation outlined best practice for local council investment in pedestrian facilities and community driven walking campaigns and walk to school programs. He provided local, national and international case studies and trends on getting people walking and important factors in creating a walkable community. His presentation was well received by the local community, as described by the West Hobart Environment Network.
Following the workshop, Ben inspected some of the impressive recent pedestrian and public space improvements on the waterfront (pictured), in a site visit with Council officers.
In the lead up to his visit, Ben was interviewed by Hobart ABC Radio, describing the drop in driver licences amongst younger people, who are more interested in living in walkable neighbourhoods than car-oriented suburbs.
The specific issues and community concerns in West Hobart were covered in an article by The Mercury newspaper.
Ben is looking forward to returning to Hobart in the New Year for another workshop, this time with Council staff, looking more broadly at ways to make Hobart more walkable.