Local campaign succees
23 May 2017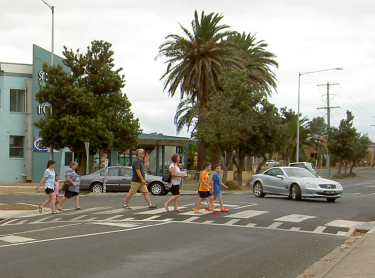 An inspired public campaign from walkability action group Locomote has helped secure the construction of a badly needed pedestrian crossing in St Leonards, on the Bellarine Peninsula.
The raised pedestrian crossing connects the local shops on Murradoc Road to the foreshore park and playground.
"This is a popular place which families walk to. Many people had difficulty trying to safely cross the road from the shops to the playground, especially over the summer months when it gets busy with cars and caravans" said Jan Wade, Locomote Member and St Leonards resident.
The crossing has been funded by VicRoads with works assistance from the City of Greater Geelong, after a public consultation process run by Locomote confirmed strong community support.
In October and November 2016, Locomote surveyed the local community on four potential projects to improve walking, in their Happy Feet St Leonards campaign. A total of 316 completed voting forms were returned and 43% rated the pedestrian crossing the number one priority.
Talking to their local community health service, Locomote discovered that some potential funding was available from VicRoads and before long the crossing was built.
"Community consultation pays off!" says Locomote member Ingrid Novosel. "St Leonards now has a wombat crossing which got 100% approval from more than 50 crossing users we talked to over the holiday peak period. The only disappointment is that we can't have art work on the crossing because it doesn't comply with standards, which Locomote would like to see changed".
Continuing the Happy Feet St Leonards project, Locomote will now campaign for the second priority on the community's list of pedestrian friendly improvements – the construction of a shared walking and cycling path on Murradoc Road, to access St Leonards Primary School.
"There is no footpath once you get past the primary school and it makes it really hard for people who use electric scooters, wheelchairs or walking frames to safely walk along the road to get to the school, bus stops or shops," said Mary-Anne Cosic, local St Leonards resident and electric wheelchair user.
St Leonards Primary School has been requesting a path along this road for a number of years, as many students walk or ride this route to get to school.
"Our kids are in danger when they are walking or riding to school as there is no footpath or off-road bike path for them to use," said St Leonards Primary School Principal, Jenny Cowburn.
Locomote is a walkability action group affiliated with Victoria Walks. They have been advocating to make it easier, safer and more enjoyable to walk around St Leonards, Portarlington and Indented Head since 2008. Locomote blogs at http://locomote-walkability.blogspot.com.au/.