Big business demands walkable cities
27 Nov 2017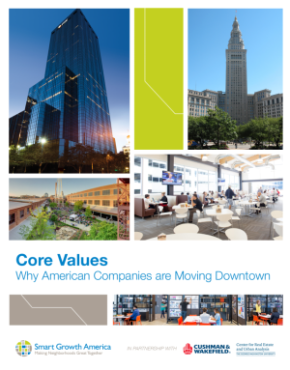 Forget about American Idol, the big competition in the U.S. right now is the contest to be home to the second global HQ of Amazon. The chosen city will receive an investment of more than U$5 billion in construction and the company intends to create up to 50,000 high-paying jobs.
Amazon received more than 200 proposals from places interested in becoming home to the company's second headquarters. The online retail giant is looking for a city that not only offers stable and business-friendly regulations and tax structure, but also prioritises walkability, accessibility, and connectivity. The right place must include "sidewalks, bike lanes, trams, metro, bus, light rail, train, and additional creative options to foster connectivity between building/facilities", Amazon wrote in its Request for Proposals (RFP).
Walkability is a key factor in achieving liveability. More active transport infrastructure means healthier and happier workers, which makes good business sense. In another section of its RFP, the company asks applicants to "identify all transit options, including bike lanes and pedestrian access to the site(s)". Amazon is expected to make a decision in 2018.
Another major American corporation has also demanded a redesign of the streets around its offices to create more walking spaces and provide an attractive environment for its employees. AT&T - at various times the World's largest phone company - is based in downtown Dallas. In order to stay, the company recently requested significant changes in its surroundings: the closure of two streets, the narrowing of another and the conversion of two others to two-way traffic. Faced with losing a major employer, all of the changes were approved by the local government. "Our vision is to help transform this campus into a destination place for tourists and downtown residents as well as our employees", said Michael Peterson, AT&T regional vice president to the Dallas News.
These are just two big examples, hundreds of companies are moving to and investing in walkable downtown locations across the United States. A report developed by Smart Growth America "Core Values: Why American Companies are moving Downtown" investigated this trend. Experts suggest it is triggered by millennials, young people who want to live and work in interesting locations rather than suburban office parks. "For the first time in history, jobs are moving to where people are, rather than vice versa", said Tom Murphy, a senior resident fellow at the Urban Land Institute.
The Core Values report shows that all types of companies are making the move to downtown areas: tech giants, big financial firms, startups, small businesses. Of the nearly 500 companies studied in the report, 245 had relocated from a suburban area. The average Walk Score of companies that have moved to new urban locations is 88 out of 100, instead of 51 out of 100 in their previous suburban locations.
This movement is not exclusive to the US, many businesses around the world have begun to look for more vibrant urban environments. In Auckland, New Zealand, businesses that initially opposed a central street being turned into a shared space, are now petitioning for it to become car free. In August 2016, O'Connell street was closed to traffic due to renovations. Since the reopening in September 2017, cars can travel again down the street but are banned from stopping or parking. The number of vehicles using the road dropped from an average of 1,061 per day in August 2016 to 337 vehicles per day in September 2017. Business owners said that business improved because of the increased foot traffic, and they now want a more enticing place for shoppers - a walkable place.
While companies are choosing urban centres and walkable locations, suburbs need to become more sustainable, active transport friendly, and city-like to stay competitive. Cities that take note of the growing importance of walkability, connectivity, and accessibility to amenities will be the ones that benefit the most.