Accessible Walks project launched
20 Apr 2023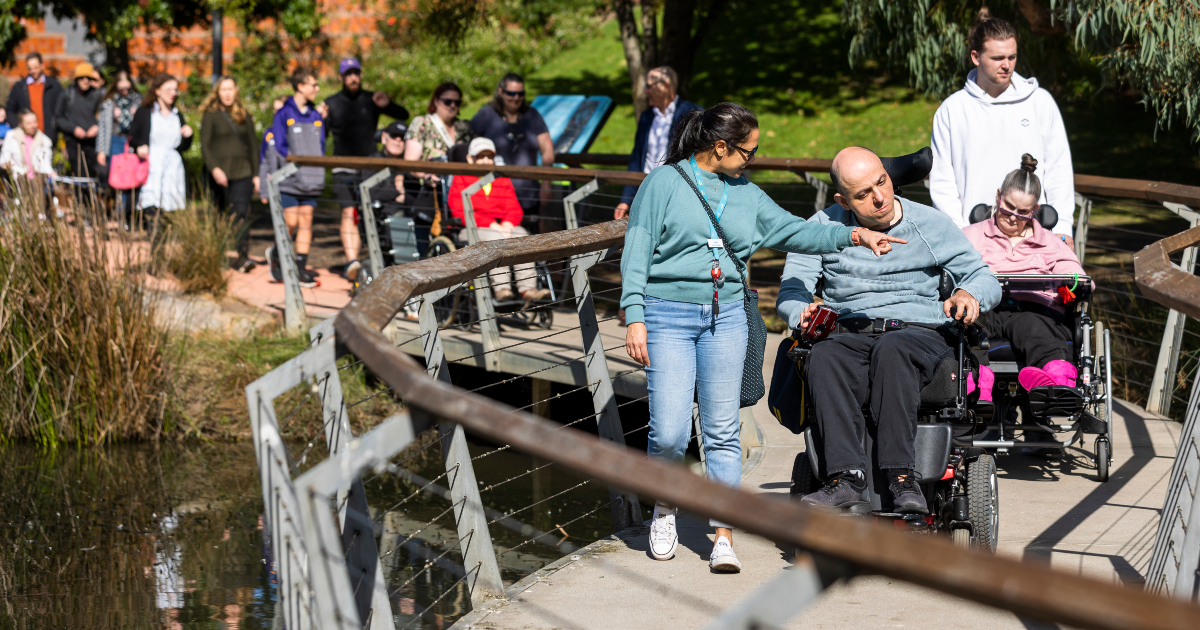 Victoria taking strides toward more inclusive green spaces

More people with disabilities will now be able to enjoy one of Australia's greatest pastimes – the humble nature walk.
Victoria Walks has collaborated with Scope, one of Australia's largest disability service providers, to create an audit tool to assess whether or not walking paths in parks and gardens are accessible to people with a range of mobility disabilities.
People from all walks of life gathered in Melbourne's east this morning to celebrate Walking and Rolling Together: Accessible Walking Paths for People with Disability.
As part of the project, a list of 24 Accessible Walks has already been published, providing information about accessible features of walks in greater Melbourne, as well as walks in Bendigo and Benalla.
It is hoped many more accessible walks across Victoria can be added to the list in months and years to come.
This morning's event was held at the beautiful Tim Neville Arboretum in Ferntree Gully, one of 24 green spaces across Victoria that appears on the new list of accessible walks.
The project was made possible by the Victorian Government's Access for All Abilities program.
Scope CEO Kate MacRae said the project has created "a really useful tool" that would allow more Victorians to get out with family and friends and to experience the physical and mental health benefits of being in nature.
Gwenda Campbell, one of Scope's auditors, said the collaboration would help people with disabilities connect with their community and the people around them.
"It's important for our community parks and walking paths to be accessible and safe for everyone," Gwenda said.
Gwenda, who has lived experience of disability, said she had loved exploring and auditing parks with Victoria Walks' project officer Sean Matthews.

Victoria Walks Executive Officer Ben Rossiter said it was a privilege to be part of a project that would make Victoria's parks and gardens more inclusive.
He said the accessibility audit tool developed for the project was now freely available for organisations such as councils, other land managers and disability service organisations to assess walking trails everywhere.
Dr Rossiter wrapped up the event by asking guests to take a walk or roll around the Tim Neville grounds together.

More Information
Morgan's story: Hear from one of the project team
ABC Radio and the Star Mail covered the project launch.
Find out more about the Walking and Rolling Together project
Use this page to add extra search filters to the published accessible walks. Hint: You can click on 'Map view' to see where the 24 accessible walks are located.