Walks with great playgrounds
Pram-friendly walks

Sometimes the little people in our lives need some encouragement to walk, and there's no incentive quite like a great playground! Of course, we're hoping the kids will enjoy the walk so much they'll forget about the playground, thus freeing you of the tyranny of swing-pushing forever!
That said, these playgrounds take the plastic-fantastic playgrounds of old and replace them with something much better!
New maps: City of Moonee Valley has recently mapped five pram-friendly walks in Essendon, Aberfeldie, Travancore and Keilor
Cruickshank Park, Yarraville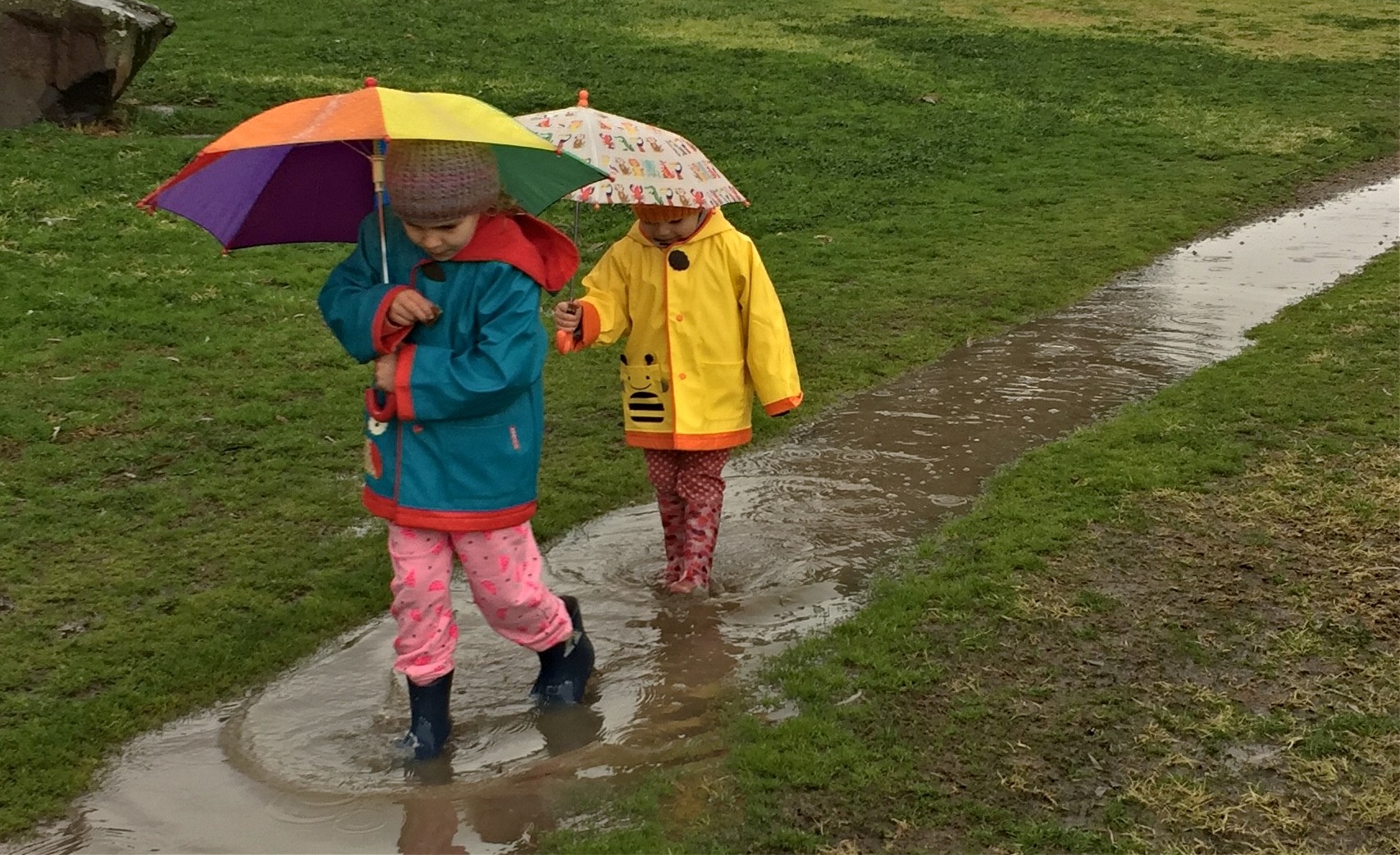 Cruickshank Park and dinosaur-themed playground
This fantastic park in Melbourne's inner-west features the choice of a pram-friendly concrete track (see our map), or a gravel track (pictured) for the more adventurous!
The park itself is large enough to get a great walk in, but there are plenty of diversions for restless small folk, including: two playgrounds (one complete with dinosaurs!), a rock hop over a creek, a BMX track, a free library and a community garden!
Find our Cruickshank Park walk here.
Wombat Bend, Templestowe Lower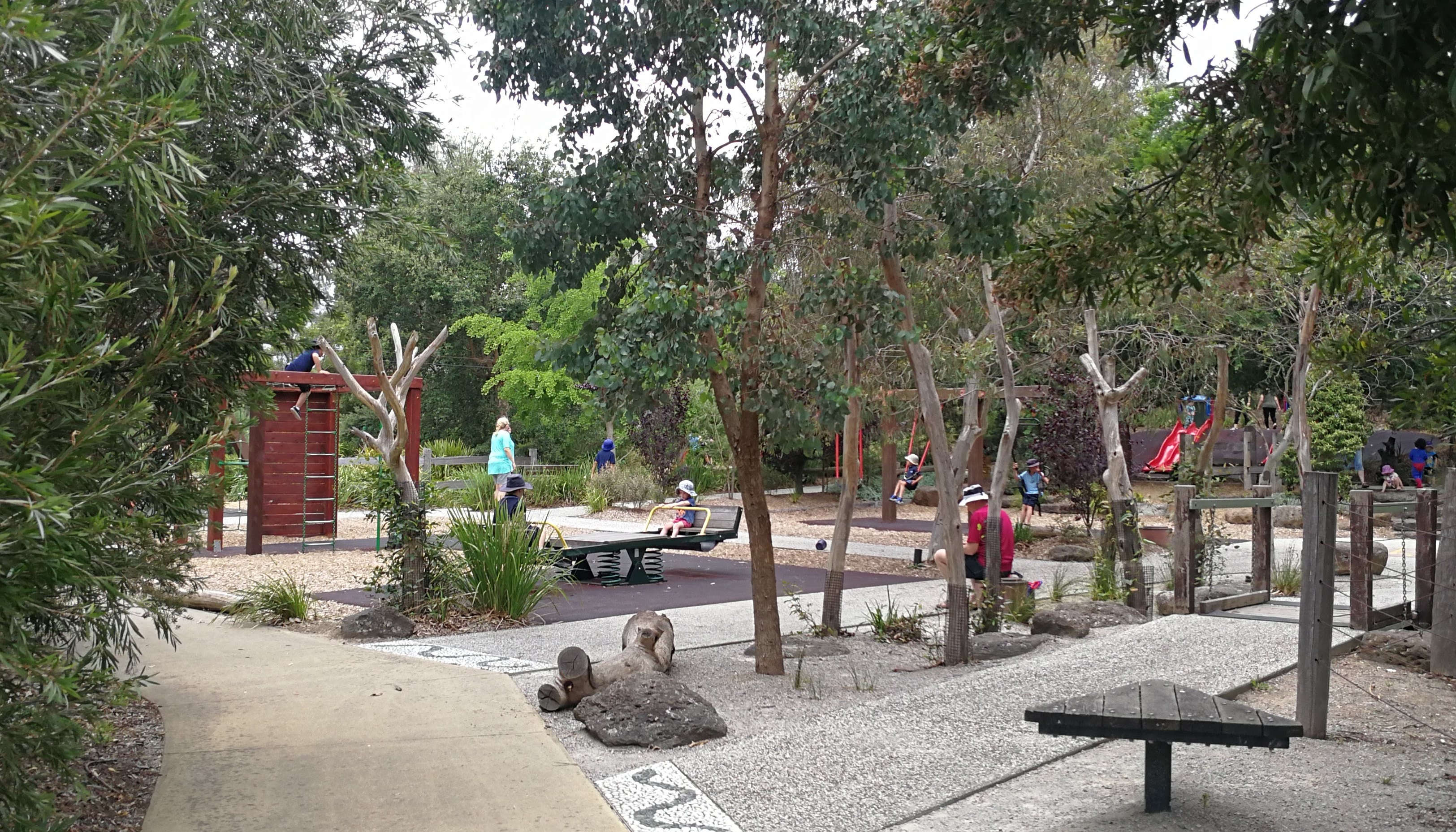 Now there's nothing like the sound of a mighty river gurgling and rushing by to get you excited about getting into nature! That's what makes the setting of this gorgeous playground, built in 2008, so lovely.
Set on the banks of the Yarra not far from Heidi, Wombat Bend is a delight for children and is surrounded by great walking paths. Nearby is a fantastic suspension bridge connecting you to the Main Yarra Trail.
The playground itself has many twists and turns. There's a sun dial, a giant sandpit, some long and bumpy slides, a separate nature play area and much more - all set within some gorgeous native gardens.
Find our Wombat Bend walking map and more photos here.
Royal Botanic Gardens, Melbourne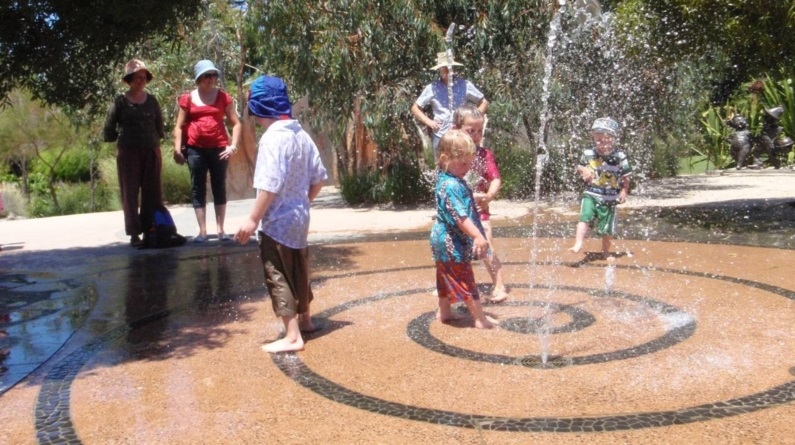 School holidays are the perfect excuse to head into town and there's no better place for families to relax than at the Botanic Gardens.
If you haven't been to the Children's Gardens then this is a must-do walk and play session (even if you don't have children it's a lovely place to grab a patch of shade!)
There's a bamboo forest to explore, and don't forget a spare change of clothes for little ones who won't be able to resist dipping their toes into the stream that runs around the edge of the children's garden.
Birrarung Marr river walk, Melbourne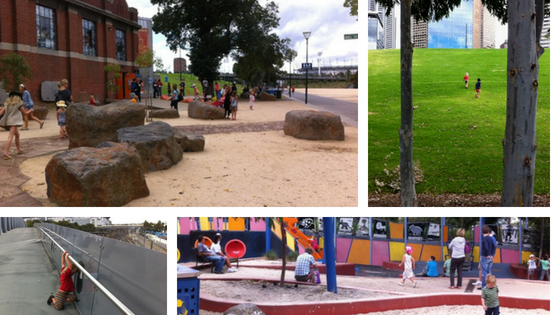 The playground at Birrarung Marr - built in 2002 - may seem a little out-of-date, yet still offers plenty of fun for little tikes. That said there are so many other great things to see and hear along this walk from Flinders Street Station down to Jolimont that the playground may be an afterthought.
This walk showcases some of the best things Melbourne has to offer: art, culture, fun and some wonferful, car-free spaces.
Proximities (bottom left) is a public art installation commissioned for the 2006 Commonwealth Games. The stories and songs come out of the many, many speakers across a bridge towards the end of this walk.
Find the whole walk here (and start your Melbourne adventure!)
Braybrook's aeroplane playground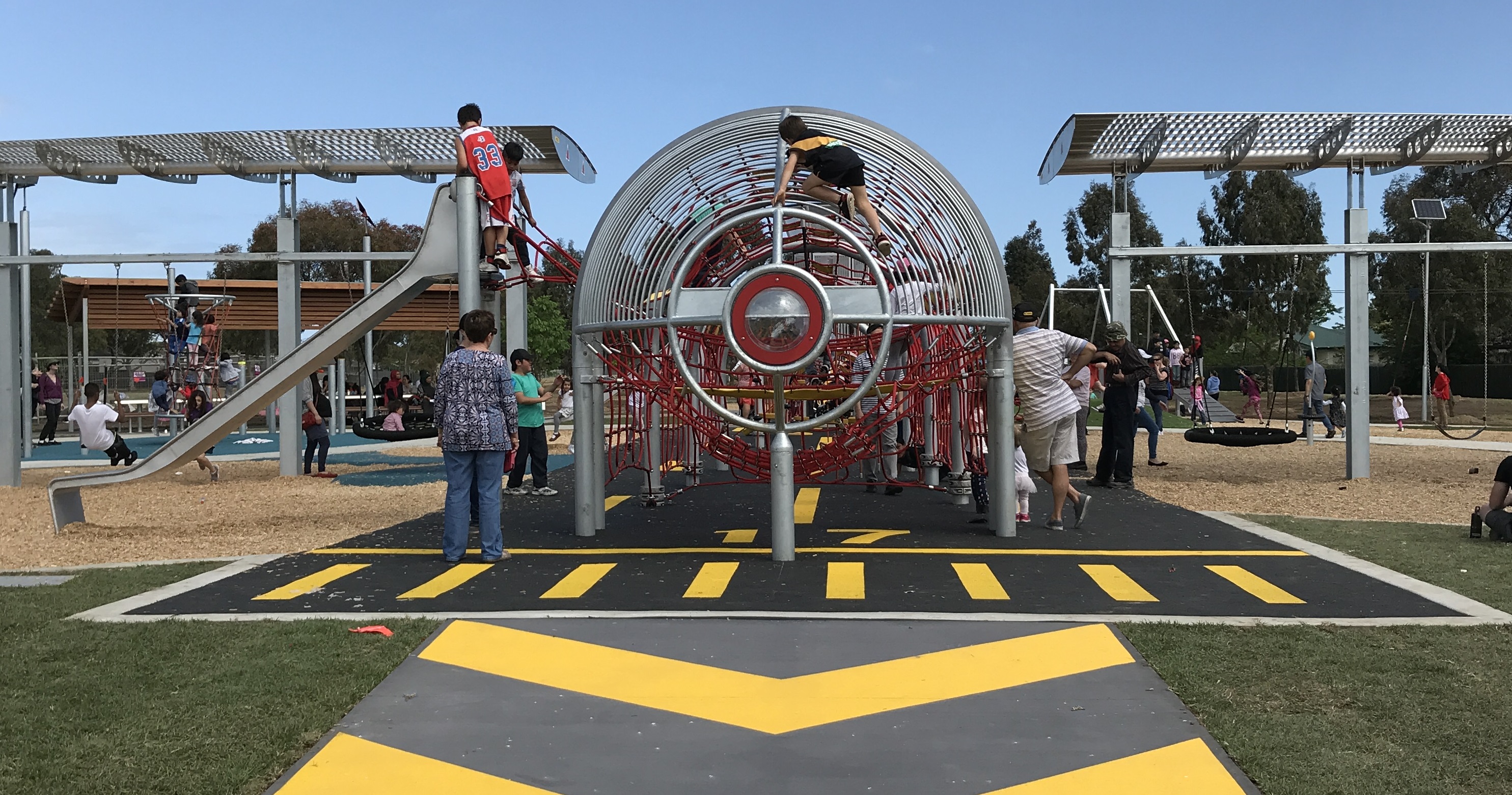 If you have a little person who dreams of flying, then head to Braybrook (not Tullamarine!)
Locals came out in droves when their new "aeroplane park" re-opened in October 2017 after the original one was burnt down. The new version has a fantastic plane for a centrepiece with an "evacuation slide" and swings on the wings.
This playground was included in Victoria Walks' Let's Walk Braybrook program, an initiative to get more locals walking and exploring their neighbourhood together.
Coburg Lake Reserve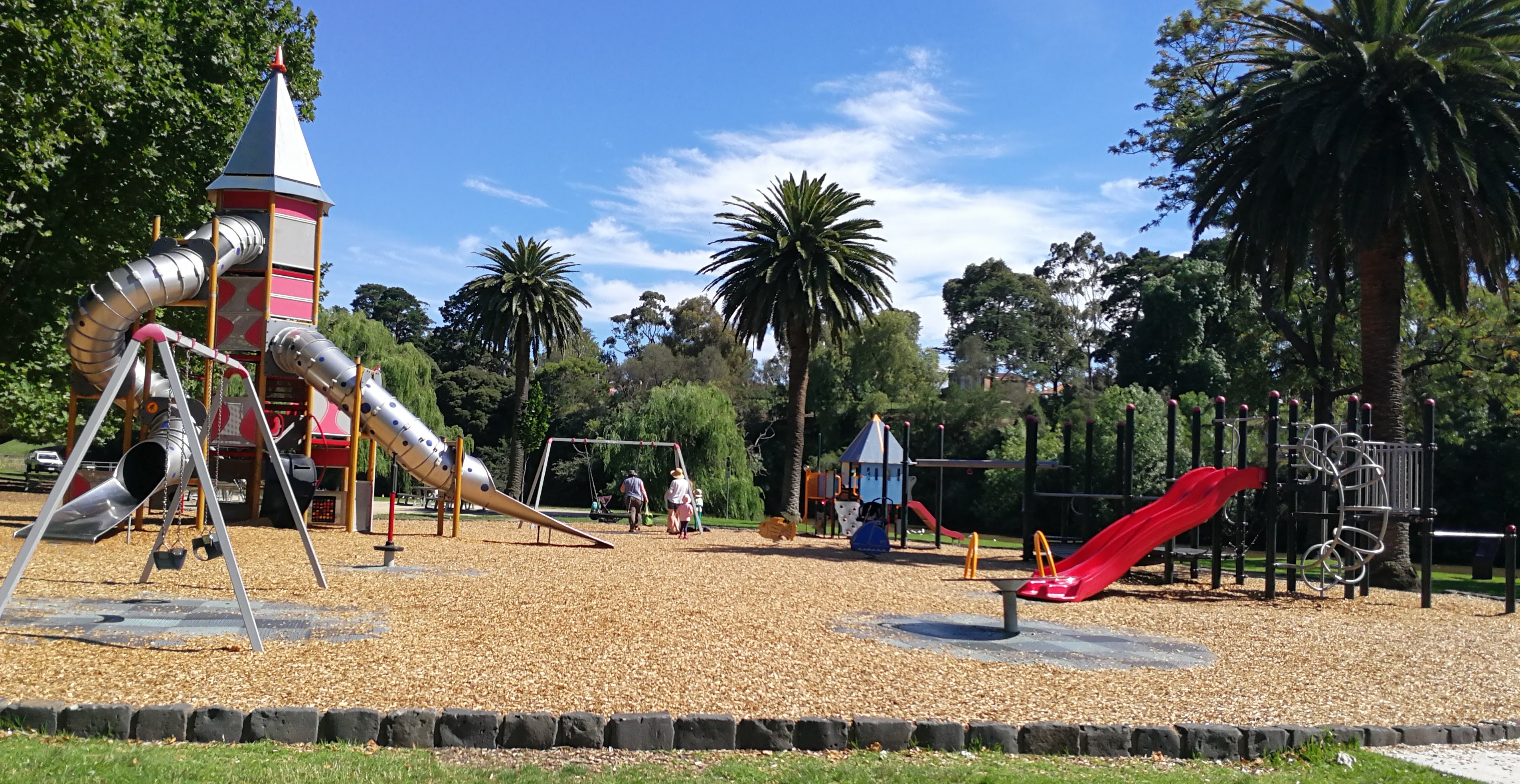 Coburg Lake Reserve, just to the north of the Pentridge Prison site, is a family-friendly and picturesque park with plenty of facilities, good paths and three playgrounds to choose from.
Once a bluestone quarry worked by prisoners from Pentridge, the man-made lake is now a great spot for picnics and walking. There's three fantastic playgrounds suiting a range of ages, including De Chene on the north bank which has a long flying fox and a maze for older children.
On the southern bank the rocket playground (Gaffney Playground) has been updated in recent years and features slides of varying lengths and a lovely basket-style swing.
There's also beautiful native trees and planting along the walking paths and plenty of bird life, free gym equipment, a chessboard table and great picnic and barbecue facilities dotted around.
For more information, including how to get there, see our new Coburg Lake map here.
Frankston's 'Castle' playground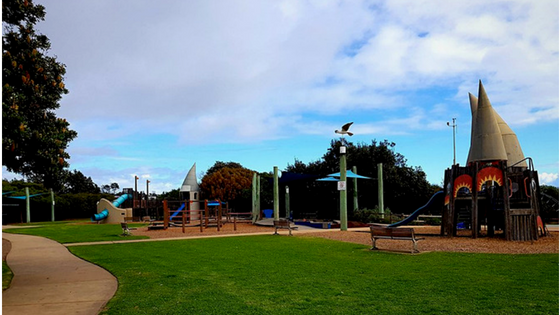 There's so much more the Frankston than the beach and this great walk has it all, including an award-winning playground to fire up little imaginations.
The walk begins at the waterfront - your little one will love a stroll out along the pier. It then makes its way along a boardwalk and runs along Sweetwater Creek before making a pit stop at the Frankston Regional Playground.
Halliday Park, Mitcham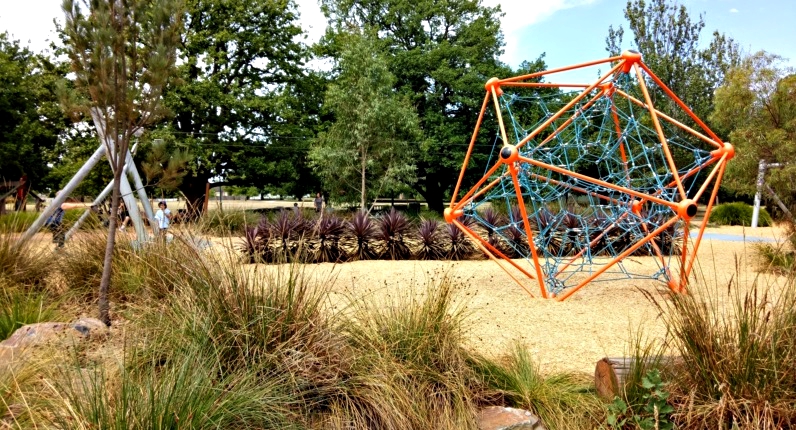 If you're in the south-eastern suburbs of Melbourne then Mitcham's Halliday Reserve offers plenty of exciting play areas for little ones.
There's a great play area for older kids featuring a challenging climbing frame and flying fox, but there's also a larger all-ages play area where imaginations can run wild.
Halliday Park has kmuch more to offer with sealed paths but also some bushier areas for those who love to get a little wild!
Find the Halliday Park loop walk here.
More information
See our

Nature Play walks for children

Playground finder can help you to discover more great playgrounds.
More family-friendly ideas here

If you'd like to add a walking map, remember you can create one

here

.

Want to tell us about more great walks for kids? Send us a line at comms@victoriawalks.org.au
Subscribe to our Enews for more Victorian walking inspiration here