Metropolitan Planning Strategy Discussion Paper
26 Oct 2012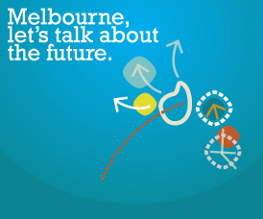 "A new Metropolitan Planning Strategy is being prepared to provide a blueprint to guide Melbourne's future over the next 30-40 years. It will ensure the valued aspects of Melbourne are protected while allowing for future needs.
The Victorian Coalition Government's Ministerial Advisory Committee has prepared a Discussion Paper called Melbourne, let's talk about the future. The paper was released by the Minister for Planning to prompt debate around the challenges and ideas for Melbourne's future.

The Discussion Paper sets out nine principles to inform the Metropolitan Planning Strategy. Five of these principles identify the outcomes the Strategy needs to address and the remaining four principles outline how these outcomes can be achieved.
The Committee raises a number of ideas for you to consider while envisaging the Melbourne you want to see in 40 years".