Walking to school helps kids concentrate
12 Feb 2013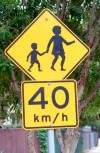 "If you're in the habit of driving your children to school, you're not really doing them much of a favour."
That's the inevitable conclusion being drawn after a major Danish study found that walking and cycling to school allowed students to concentrate much better than others.
A study of nearly 20,000 children - the Mass Experiment 2012 - found that children who walked or cycled to school were able to concentrate better than others for the first four hours of the day.
The authors of the study, reported in Atlantic Cities and elsewhere, were expecting to find that eating breakfast and lunch were the main factors in pupil concentration. However, they found that the trip to school was much more important.
"The results showed that having breakfast and lunch has an impact, but not very much compared to having exercised. As a third-grade pupil, if you exercise and bike to school, your ability to concentrate increases to the equivalent of someone half a year further in their studies."
Of course, walking or cycling to school is also good for a child's physical health, and Australia isn't doing well. In a study in south eastern Sweden, which has relatively high rates of active travel to school, 90% of girls and 67% of boys aged 7‐9 years met the recommended number of steps per day (12,000 for girls and 15,000 for boys). In comparison, in Australia, 50% of girls and 32% of boys aged 5‐8 meet the recommended number of steps (VicHealth 2009).