Walking and the economy
24 Apr 2013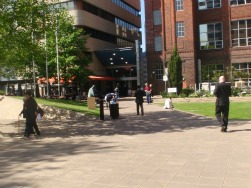 A comprehensive study of different parts of Washington DC has confirmed that walkable places perform better economically.
The Metropolitan Policy Program at Brookings looked at 200 districts within the Washington metropolitan area.
Their study found that a place with 'good' walkability typically achieved $8.88/sq. ft. more in office rents per annum, $6.92/sq. ft. in retail rents and 80% more in retail sales than a place with 'fair' walkability, even after adjusting for household income levels in the area. Similarly, a residential house or unit with good walkability generates $301.76 more in rent per month than one with fair walkability, after adjusting for household income.
In terms of the capital value of property, the study found that retail and office space in walkable places had a 44.3% premium. Interestingly, this premium increased dramatically during the recession of 2008-2010.
The report concludes "considering the economic benefits, walkability should be a critical part of all strategic growth plans." They also emphasised the need to provide more housing in walkable areas to address the apparent mismatch between supply and demand. A survey by the National Association of Realtors found that 56% of homebuyers prefer neighbourhoods with a mix of housing types, various destinations within walking distance, public transport options and less car parking.
The Brookings Study serves to affirm previous research by Pivo and Fisher, reported in Real Estate Economics, that found walkability increased property values and operating incomes for office, retail and housing.