Note to ABS - don't forget walking!
21 Jun 2013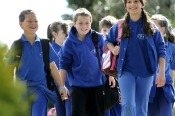 Victoria Walks has asked the Australian Bureau of Statistics (ABS) to record more transport information in its 2016 Census.
The ABS is planning for the 2016 census and sought public submissions to the end of May 2013.
Currently, the Census does not record information about walking if it is done in combination with another mode of travel (e.g a person walks to catch public transport). The Census however does collect information on other modes of transport used in combination (e.g. a person rides a motorbike and drives a truck).
Victoria Walks has therefore asked the ABS to record walking in combination with other methods of travel in the next Census. Walking is likely to be the main method of travel used in combination with another mode. In Melbourne for example, 59% of people walk to the train, 92% of people access bus services by walking and 95% of people access tram services by walking.
Along with a number of other organisations, Victoria Walks has also suggested that the Census records information about travel to education; currently the Census only records information about the journey to work. This information would aid in understanding this travel behaviour better (approximately 17% of peak hour vehicle traffic in Melbourne is travel to school).
Walking to school can have a significant impact in combating physical inactivity and obesity in children. The more we understand about travel to school, the more we can influence it and establish positive long-term behaviours among children.