Walking to a healthier Victoria
7 Sep 2015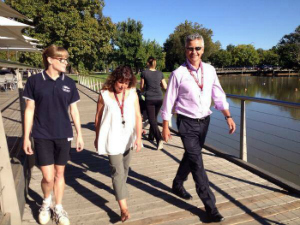 The new Victorian Public Health and Wellbeing Plan highlights the need to build walkable communities, to fight the obesity epidemic.
Australians are fat - 61% of adults are overweight or obese. One of the Plan's four responses is getting people more physically active, including through active transport and urban design. Encouraging interaction with nature is another key direction.
The Plan promotes liveable neighbourhoods as a key health solution:
"This includes design of pedestrian-friendly neighbourhoods, accessible open spaces for recreation and leisure, and food environments that encourage healthy diets."
"Transport planning, conveniently located public transport and active transport options, offer multiple benefits not only for active living and injury prevention, but also for equity of access to education, services and employment. Examples include networks of safe high-quality cycling links and pedestrian friendly streets."
To implement the Plan, a public health and wellbeing action plan will document detailed actions, strategies, timeframes and deliverables by government agencies. Under the Public Health and Wellbeing Act, local councils will also be required to have regard to the Plan in preparing their own municipal public health and wellbeing plans.