Let your kids go free
27 Oct 2015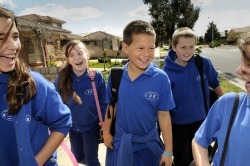 A major study by VicHealth has found that children's lives are limited by their parents fear, not only for their children, but of being judged by other parents.
Walking to school and around their communities is important for kids health, social development, life skills and ability to concentrate at school. Children who had some independence described how much they enjoyed the freedom to explore, have fun and talk to their friends.
The study describes a complex web of factors that determine parental attitudes and therefore whether their children are allowed independence. Parents' fear of strangers especially and also traffic are big factors. Boys are given more licence than girls, although not dramatically so. More significant is the difference between Melbourne and regional areas, where parents feel more connected to their community and give their children more freedom.
The children have a very different perspective to their parents (arguably based more on reality). While a small number of children mentioned being scared or wary of strangers, more often they were worried about getting lost, being bullied by older children or being frightened or attacked by animals like dogs or snakes.
Perhaps the most sobering finding from the study is that parents' reluctance to give their children the independence they need is also being driven by fear of being judged as a bad parent, either by family, other parents or by their child's school.
"Just from reading the (school) newsletters sometimes I feel like the schools are saying that it's not okay for the kids to be walking home unless they're over a certain age." (Mother of 7 and 11 year olds)
But this apparent cloud has a silver lining - parents are looking at others to see what is considered appropriate, so there is a key role for individual parents to lead the way, not only for their own children but for their school community.

"I probably wouldn't have let (my children) do it but then I think well obviously that parent is confident with their child doing it... so then I think well maybe I can instil a little bit more independence in them as well... so it takes sometimes another parent." (Mother of 10, 11 and 14 year olds)
Will you be the parent who leads the way for your community?
See the VicHealth website for more information on the research and a guide for parents - How to help your kids get around safely on their own.